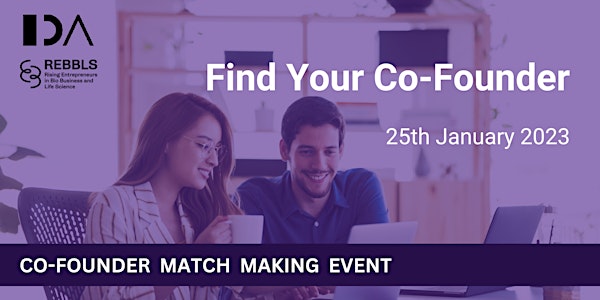 Find Your Co-Founder : Registration for Startups
REBBLS & IDA invite all early-stage Life Science (Therapeutics/Biotech/FoodTech/MedTech) startups keen on finding the ideal cofounder!
When and where
Location
IDA Conference 31 Kalvebod Brygge 1560 København Denmark
About this event
In an early-stage startup, your team is the most valuable asset to attract customers and funding. So, setting up the founding team with the right skills and competencies can make a difference for your startup.
We also understand that finding the right person for your business is tricky. REBBLS & IDA would like to help you with the first steps of that journey by utilizing our extensive network within the broader life science ecosystem (Therapeutics / Biotech / FoodTech / MedTech), spanning interesting profiles across both business and science.
We are hosting a co-founder matchmaking events:
Event: It is a pitching and matching session where the founders of an early-stage startup gets the chance to present their company and talk 1:1 with relevant candidates to select the potential co-founder for your startup.
This registration form is for the event.
To get the right startup, we would like to hear your ideal co-founder profile and personality that can complement your team best.
Fill out and submit the form so that we can invite potential candidates as your next co-founder.
Application deadline: 6th January 2023.
(By filling out this application, you give REBBLS and IDA consent to contact you regarding participation in this event. We will not use your information for marketing purposes or share them with anyone else)
Press Reserve A Spot to start with the registration questionnaire
Phase 1: Startups looking for a co-founder are invited to register their details and requirement (Current registration form)
Phase2: 5-7 Startups will be selected (we will be reviewing the startups on an ongoing basis and we will notify the selected startups by 8th January 2023)
Phase3: Individuals interested in being a co-founder are invited to register (https://www.eventbrite.dk/e/co-founder-match-making-event-for-people-interested-to-become-a-co-founder-tickets-482957086647)
Phase4: Selected individuals will be notified through email
Event: Match Making event on 25th January 2023