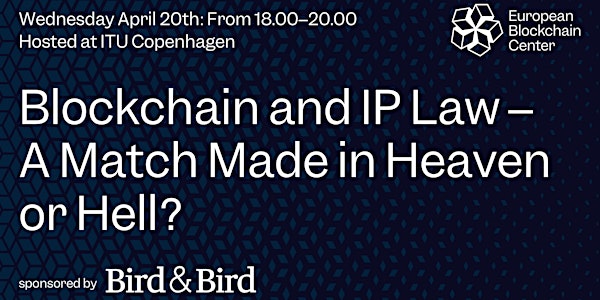 Blockchain and IP Law – A Match Made in Heaven or Hell?
Location
IT University of Copenhagen
Rued Langgaards Vej 7
2300 København S
Denmark
This conference will be focused on how intellectual property law and blockchain can work together to transform the current legal landscape.
About this event
ABOUT THE EVENT
The European Blockchain Center will host its first conference on `Blockchain vs. IP Law´ under the heading: "Blockchain and IP Law – A Match Made in Heaven or Hell?"
The conference focuses on the intersection of the blockchain technology and intellectual property law. The lectures will cover subjects such as patents in the area of blockchains, EUIPO´s anti-counterfeiting infrastructure on the blockchain, open source in the field of the blockchain technology as well as the applicability of copyright law on NFTs. Drinks will be served after the lectures.
SPEAKERS
Speakers will include
Marc Kaufman (Partner, Rimon Law U.S.A.),
Nicolas Hauw (Project Specialist, EUIPO),
Martin von Haller Grønbæk (Partner, Bird & Bird Denmark) and
Hans Brorsen (Rechtsanwalt, Berlin).
Introduction by Professor Roman Beck (IT University, Copenhagen).
DATE AND LOCATION
20th of April 2022 at 6 - 8 pm (CET) at the IT University of Copenhagen, Auditorium 1 (metro station DR Byen)
ONLINE TICKETS
To access the live stream, make sure to use the link sent to you at the bottom of your ticket receipt.
SPONSOR
The event is sponsored by and is held in cooperation with Bird & Bird