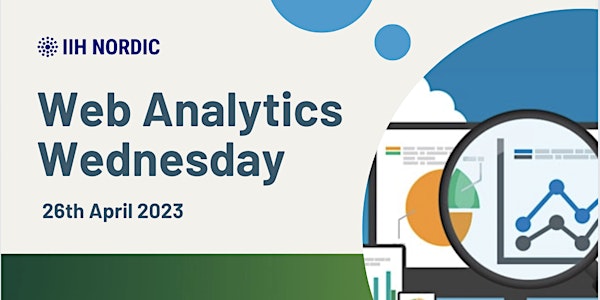 Web Analytics Wednesday Copenhagen April 2023
The Community for data, marketing and digital analytics
When and where
Location
Københavns Professionshøjskole - Campus Carlsberg 3 Humletorvet 1799 København Denmark
About this event
An Evening of Analytics and Marketing Knowledge Sharing
Web Analytics Wednesday is an international event for analysts and marketers with talks from international and local speakers. IIH Nordic has facilitated the Danish WAW by arranging recurrent events in Copenhagen and periodic events in Århus and abroad since 2008.
At every WAW we aim to secure top-knowledgeable and experienced speakers within the field as well as making sure the sessions will be relevant, updating and exciting to you.
Joining a Web Analytics Wednesday is not only about gaining new insights or hearing about interesting learning experiences, it is also a great opportunity to meet likeminded professionals from whom you can learn or teach about your own experience in the field.
Be a part of this community!
The program so far...
15.45 - 15.50: Check in & welcome, with Jomar Reyes (AU) & Steen Rasmussen (DK), IIH Nordic
15.50 - 16.25: Opening Keynote: Leading with Numbers, Julius Fedorovicius (EE), AnalyticsMania
16.25 - 16.50: Data, the Path of Least Resistance, TBA, Snowplow
16.50 - 17.15: Let's talk CRAP, Bhavik Patel (UK), CAUSL
17.15 - 17.45: Breakout sessions
17.45 - 18.15: The Big Break
18.15 - 18.40: Users vs. Products, TBA, Amplitude
18.40 - 19.05: Fighting Force for Data, Caroline Vidal (SE) & Julianna Sawma (US), IIH Nordic
19.05 – 19.40: Keynote: It's about People, Ton Wesseling (NL),
19.40 - 20.05 TBA
20.05 - 20.10: Perspectives & Closure, with Steen Rasmussen (DK), IIH Nordic
20.10 - Conversations - Theme talk – the last selected words, You (Anywhere)
20.35 - End of the road – Networking and free hugs…
Join now... more than half the tickets are already gone...