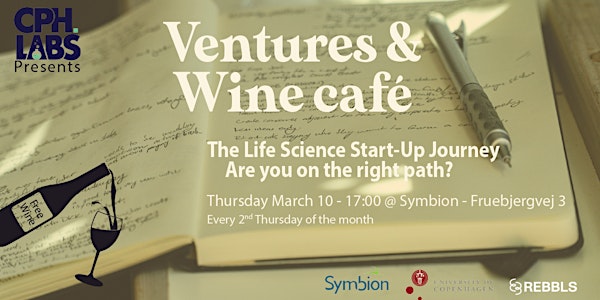 V&W Café: The Life Science Start-Up Journey – Are you on the right path?
Join us for an informal glass of wine, interesting discussion and meeting new people!
When and where
Location
Symbion Fruebjergvej 3 Fruebjergvej 2100 København Denmark
About this event
How do you run a life science startup? Are they all the same? Obviously not - but what does that mean and how do you navigate it?
In the Ventures & Wine cafe of March we will dive into the differences between the journeys of start-ups in various areas of the life sciences. We will explore three different cases in the areas of Therapeutics, Medtech and Industrial Biotech – and through workshop discussions get to an understanding of the way each should be managed, run and developed separately.
The discussions will be facilitated together with Lasse Nørregaard, Life Science Business Developer and Max van 't Hof, PhD & co-organiser of the 2021 Start-Up Academy.
Join us for an evening with interesting discussions, new people, wine and pizza. As always there will be various experts present to answer all of your questions.
Walk in starts at 17:00.
This event is part of a CPHlabs consortium with Symbion, Copenhagen University and REBBLS. It is published under a joint marketing partnership of REBBLS and IDA.