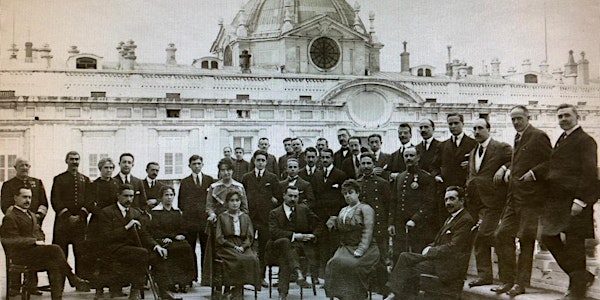 VSS Feb 2022 - European Royal Humanitarian Networks in World War I
VSS Feb 2022: Marina Perez De Arcos - European Royal Humanitarian Networks in World War I
About this event
17 February 2022
17:00 GMT/18:00 CET
Marina Perez De Arcos - "European Royal Humanitarian Networks in World War I"
Seminar abstract:
King Alfonso XIII of Spain was related by blood or marriage to the reigning sovereigns of all the great warring monarchies of Europe: Austria-Hungary, Britain, Germany, and Russia. But, perhaps uniquely, as the son of an Austrian archduchess and husband to a formerly Anglican British princess, he also bridged the longstanding rift between Catholic and Protestant monarchies in Europe. King Alfonso engaged royal women as mediators in the conflict, leveraged family links to help keep Spain out of the war and resolved many of his relatives' tribulations. At the same time, thousands of letters of desperate requests from around the globe and across all social classes inquiring about the whereabouts, treatment and repatriation of loved ones (both soldiers and civilians) reached the Spanish Court between 1915 until 1921, which resulted in the creation of a far-reaching, yet understudied, humanitarian Office in Madrid's Royal Palace attic. The seminar will explore how Alfonso XIII performed and came to be perceived as a champion of humanitarianism on the global scale, both on the streets and across the Courts of Europe, and also suggest ways in which European royal wartime humanitarianism at large (its symbols, actions, and networks) may be studied in future.
Bio:
Dr Marina Pérez de Arcos is the Head of Politics at Forward College, a new higher education institution partnered with the London School of Economics (LSE) with campuses in Lisbon, Paris, and Amsterdam, where she is also Head of Institutional Relations. In addition, she is a Research Fellow at the Department of International History, LSE, and a Research Associate at the Department of Politics and International Relations, University of Oxford. Marina has lectured at LSE and Oxford for almost a decade and holds an MPhil and DPhil from Oxford. She has published in Spanish and English in top tier journals, including The International History Review, Contemporary European History, Bulletin of Spanish Studies, and Hispanic Research Journal. Marina is currently working on a monograph on Spanish and European royal humanitarian networks in the First World War.