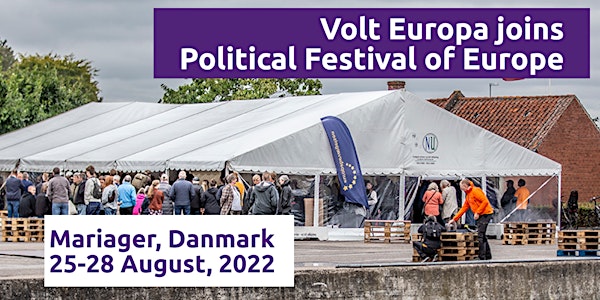 Volt at Political Festival of Europe - Det Europæiske Folkemøde, Mariager
Volt Europa at Political Festival of Europe - visit our tent and meet the first Pan European political party!
When and where
Location
Mariager Mariager Havn 9550 Mariager Denmark
About this event
Volt Europa kommer til Mariager og deltager i det første Political Festival of Europe!
Europa og europæere står overfor store udfordringer og nationale partier kan ikke længere levere løsningerne, vi har brug for.
Siden 2017 har Volt arbejdet på at opbygge det første PanEuropæiske parti for at mobilisere borgere i hele Europa til at arbejde sammen, blive politiske og ved at dele vores erfaringer og energi, at fikse Europa og vores problemer!
Vi er i Mariager og vi glæder os til at tale om Europas fremtid, om retsstaten, om den grønne omstilling og EU reform!
Vi stiller op til Europaparlamentsvalget med DIN hjælp, så husk at give din vælgererklæring på volt.link/stemvolt!
❤ English ❤
The Political Festival of Europe is a yearly democracy festival that aims to gather citizens of Europe over the course of four days to discuss politics and embrace Europe's rich history and cultural heritage.
Volt Europa is coming to Mariager for the first Political Festival of Europe!
Europe and Europeans are facing big challenges and national parties can no longer deliver the solutions we need.
Since 2017, Volt has been building the first PanEuropean party to mobilise citizens across Europe to work together, become political and by sharing our experiences and energy, to fix Europe and our problems!
We will be in Mariager and look forward to discussing the future of Europe, the rule of law, the green transition and EU reform!
We want to run for the European elections in 2024 with YOUR help, so give your endorsement at volt.link/endorsevolt now