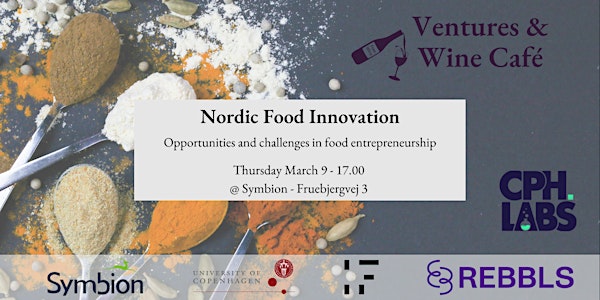 Ventures & Wine Café
Nordic Food Innovation: What are the opportunities and challenges in the fast moving field of food entrepreneurship?
By REBBLS (Rising Entrepreneurs in Bio Business and Life Science)
Date and time
Thu, Mar 9, 2023 5:00 PM - 8:00 PM CET
Location
Symbion Fruebjergvej 3 Fruebjergvej 2100 København Denmark
About this event
Join us for our next round of Ventures and Wine! This time we have the pleasure to welcome Kim Wejendorp, Heide Truong, and Randi Wahlsten!
Kim has developed his cooking skills as a chef around the world and is currently researching interesting new concepts and flavours at The Novo Nordisk Foundation Center for Biosustainability.
Heide has a MSc. in Food Innovation and Health from Copenhagen University, and is currently a Brazilian jiu-jitsu competitor and instructor alongside Sunny Life Co. co-founder. Heide will take us on a journey of designing the perfect food product and share some of her knowledge and experience on the consumer acceptance of novel food products in the Nordic region.
Randi has worked in the food industry for over 10 years and is currently the CEO of MATR foods, a Danish startup that upcycles unwanted vegetables to create healthy, climate-friendly food!
Together we will talk about opportunities and challenges in the fast-moving field of food entrepreneurship!
Program
17:00: Doors open
17:25: Intro to REBBLS
17:30 talk 1: Heide
18:00 talk 2: Kim
18:15 talk 3: Randi
Run in collaboration by CPHlabs and REBBLS and with support from Vin Fra Loire (https://vinfraloire.dk/) and Stefanos Pizza (https://stefanospizza.dk/).
----------------------------------
Note: REBBLS may take photos and short video snippets at the event to use as promotional material for REBBLS on our website, social media profiles, and future sponsorship /funding applications. Please do let the organizer know if you would prefer us to not take photos and/or short videos of you and we will make sure to follow your request.