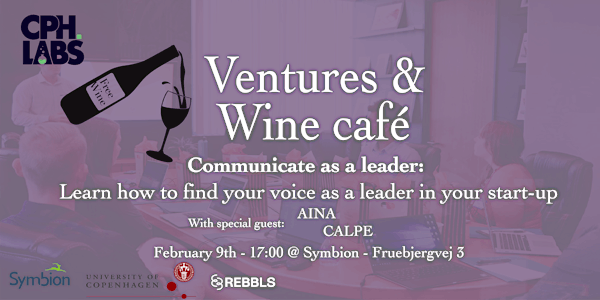 Ventures & Wine Café
Communicate as a leader: learn how to find your voice as a leader in your start-up.
When and where
Location
Symbion Fruebjergvej 3 Fruebjergvej 2100 København Denmark
About this event
Join us for our next round of Wine and Ventures as we have the pleasure to welcome Aina Calpe, who is a voice, speech and public speaking coach specializing in communication for business leaders. Together we will discuss the importance of the way we communicate, which greatly influences the ultimate success of our business venture. Thus once more, it will be an evening featuring an educative talk, interesting discussions, free wine and pizza, and great networking.
----------------------------------
Note: REBBLS may take photos and short video snippets at the event to use as promotional material for REBBLS on our website, social media profiles, and future sponsorship /funding applications. Please do let the organizer know if you would prefer us to not take photos and/or short videos of you and we will make sure to follow your request.