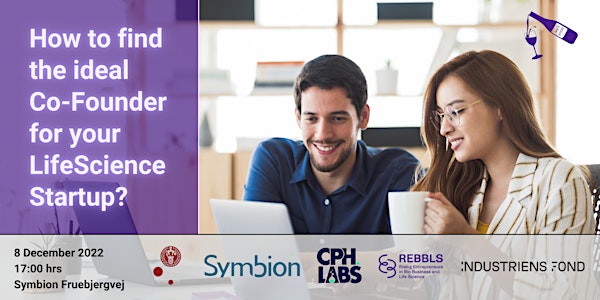 Ventures & Wine Café
Are you looking for a co-founder for your LifeScience / Biotech startup? Register to learn from established early-stage startup founders.
When and where
Location
Symbion Fruebjergvej 3 Fruebjergvej 2100 København Denmark
About this event
This event is part of a two-part event organized by REBBLS and IDA Copenhagen: Find Your Co-Founder Event.
In this event we learn from the founders of biotech startups about their journey, decision process, and reflections on finding the ideal co-founder for their startup.
Speakers:
Jeppe Christian Mouritsen from Henlez
Marie Filippson Parslov from Ampa Medical
Will Wright from Nordic BioVentures
Program:
17:00 - 17:30 Arrival and welcome drinks
17:30 - 17:45 Kick-off: Introduction to REBBLS and program of the evening
17:45 - 18:30 Our speakers take us through their journey and share key learnings
18:30 - 18:45 Q&A with the audience
18:45 - 19:30 Networking, wine & pizza
Everyone is invited including people who wants to network or learn something new :)