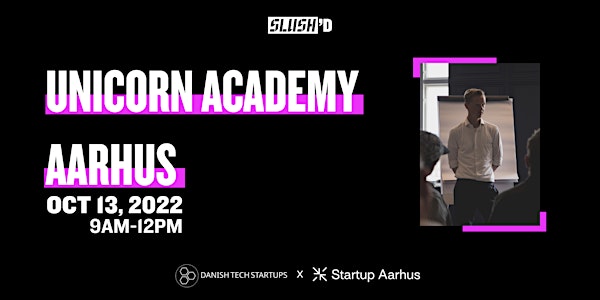 Unicorn Academy Aarhus
Access the insights on how to become the next Unicorn in Denmark!
When and where
Location
Lunar Hack Kampmanns Pl. 10 8000 Aarhus Denmark
About this event
"Unicorn Academy is a super cool initiative that gives entrepreneurs who are well on their way very direct or informal access to some of the most experienced and skilled Founders in our field."
Hans-Kristian, Founder, Clerk.io
There are many great things to learn from today's Danish Unicorns whether:
✅ it is growing your company from 50 to +1000 employees,
✅ building a global organisation, or
✅ attracting and hiring the right talent.
That is why the Danish Tech Startups has initiated Unicorn Academy! 🦄 We spend 2 hours together with unicorn founders and get an honest look into the journey of building a Unicorn company. 🏗️
This time, Peter Andreasen from Lunar, Lars Fløe Nielsen from Sitecore and Klaus Nyengaard, former CEO, Just Eat will be joining us! 🤩
In Aarhus! 🤩
Peter Andreasen, Lars Fløe Nielsen and Klaus Nyengaard will be sharing with us their failures, their experiences and answering all your questions - all in an informal and intimate setting. 🤝
We are inviting Danish tech startups between
👥 15-200 employees
📅 on October 13th, 2022
⌚ from 09:00 am - 12:00 noon
📍 at Lunar HQ, Aarhus
to join us for a session with our selected Danish unicorn founders. 🦄
Program time-table:
09:00 - 09:05 - Welcome by Esben Gadsbøll
09:05 - 09:15 - Who is attending: Intro of Founders in the room
09:15 - 10:00 - Story of building Sitecore and Lunar from an idea to a Unicorn: With Lars and Peter
10:00 - 10:15 - Q&A
10:15 - 10:30 - Break
10:15 - 10:40 - Klaus sharing experiences on scaling your company, culture and other challenges you face if you wanna make it big
10:40 - 11:30 - Q&A and open dialogue between Founders and 'speakers' in the room: What are your challenges, how do you deal with them, etc.
11:30 - 12:00 - Lunch at Lunar
Lunch and refreshments will be provided to the attendees.
Registration is free and mandatory to attend the event. 🆓
You can reach out to team@techstartup.dk for more information. 📩
This event is brought to you by Danish Tech Startups, Startup Aarhus and Slush'D! 💪
Register today! 👉