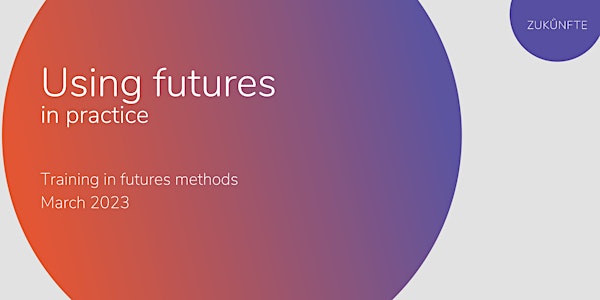 Training - Using Futures in Practice
In this training, you acquire a diverse toolbox of futures methods and learn how to apply them in your own context.
Date and time
Thu, Mar 9, 2023 6:00 AM - Thu, Mar 30, 2023 9:30 AM PST
About this event
Reserve & pay your spot until 3rd of March
We make our decisions today on the basis of how we imagine the future. Yet we know so little about the future and often don't have futures methods accessible in our everyday work settings. Hence, Futures Literacy is key. Futures Literacy is the capability to use the future with the right methods for the purpose at hand.
In this training, you can learn tangible futures methods and apply them in a structured way. The methods represent either elements of a Futures Literacy Laboratory or reflect the spirit of Futures Literacy. With this toolbox of futures methods, you can use the future in a simple manner in your everyday work as well as your private life.
Futures Literacy is a capability for the 21st century and has been developed by UNESCO since 2012. It's applied in diverse contexts and used by a global network of Futures Literacy practitioners. At its core, the approach uses the future(s) for a variety of purposes and with a variety of methods.
To give you an idea of what you can apply futures methods to:
Create a vision for your team
Inspire a collective direction and action
Inform or develop strategies
Uncover underlying assumptions and worldviews
Discover novel perspectives
More specifically, we will explore the futures methods of En-visioning, Future Personas, Causal Layered Analysis, Reframes, Weak Signals, Quest-ing, and more.
How it works
This paid training runs over the course of 3 weeks in March 2023. In three online modules of 3.5 hours each, you will learn a variety of futures methods, practice them and explore how to apply them to diverse use cases. In addition, you will have one individual coaching session with one of the trainers. The aim of the session is to guide and support you in the application and practical use of the learned methods in your context.
The training combines individual work and shared learning in plenary. All modules will take place online on Zoom. Please, read more about registration and participation fee below.
Dates & times
Module 1: 9th March, 15:00 - 18:30 CET
Module 2: 23th March, 15:00 - 18:30 CET
Module 3: 30th March, 15:00 - 18:30 CET
What to expect
Practice a variety of futures methods and explore their potential for your work context.
Learn how and for which purposes you can apply the different futures methods.
Get an overview of the competence of Futures Literacy and know its relevance and application for individuals, organizations and society.
Who it is for
This training is shaped for people who
are interested in futures methods and wish to use them in their field of work.
search for approaches to think and work in new ways in order to drive better decision-making in the present.
want to be able to create conditions for teams to imagine and engage with the future.
Registration and costs
The participation fee for the training is 625 Euros (excl. VAT). You can simply reserve your spot here on Eventbrite or by writing us until the 3rd of March: lena.tuenkers@zukuenfte.net
The training will take place with a minimum of 6 participants and a maximum of 15 participants which will be communicated to you latest until the 3rd of March.
Your trainers
Lena Tünkers aims to expand people's capacity to imagine and uses the future to alter perspectives and narratives in the present. After studying Innovation & Organizational Entrepreneurship, she worked in the field of innovation and business design. First, in a corporate context with HelloFresh, Spotify, and the UN. Then, in the start-up ecosystem in Denmark and Kenya with a focus on frugal innovation, sustainable consumption, and agriculture. Today, she guides people in their work with the future as a process designer and facilitator. She is co-founder of the German network ZUKÜNFTE, a board member of Founders of Tomorrow, and hosts the House of Beautiful Business in Copenhagen.
Martina Oettl has led numerous Futures Literacy processes for NGOs, the private sector and government. She teaches the method in German and English language and trains facilitators to learn the method for application in their own contexts. Together with international experts from the field she develops the method further and combines it with other methods such as Design Thinking and the MG Taylor methodology. Martina has a decade of experience in collaboration design in which she facilitated large groups of stakeholders to solve complex challenges. She worked with the Australian government to prepare Sydney for its population increase and for the aerospace industry in Europe with a focus on strategy.
Dr. Stefan Bergheim is part of the core team of the global UNESCO Futures Literacy Network, has contributed to the book "Transforming the Future", co-curated the Futures Literacy Design Forum 2019 and the High-Level Futures Literacy Summit 2020, and co-organised the WFSF 2021 conference. He has designed and facilitated a large number of futures labs in Dubai, Dublin, Berlin and online on topics such as education, sustainability, democracy or inclusion. He is the author of the book "Futures - Open to Variety", in which he shares his many years of experience with collaborative futures processes and presents many methods.
and the ZUKÜNFTE Team