Dit evenement is afgelopen.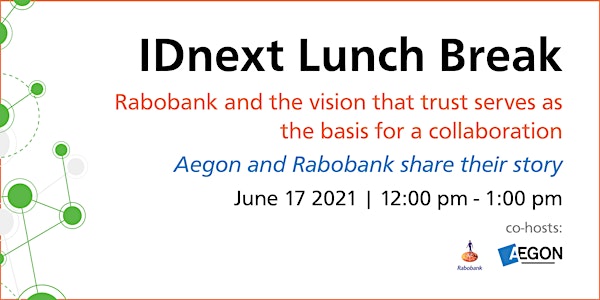 IDnext Lunch Break
IDnext is introducing IDnext Lunch Break. One theme, one guest and content. The only one thing you need to arrange is your own lunch!
Over dit evenement
Main mission of IDnext is all about sharing knowledge. There are multiple ways doing this. Still, we do know that time is precious, and it needs to be spent in an effective and timely manner. What is the best way doing this?
During the day, it is time for a break and have a moment to sit down and have a good discussion with fellow peers, connect and share your thoughts on a variety of topics.
Topic of this Lunch Break is
"Rabobank and the vision that trust serves as the basis for collaboration" - Aegon and Rabobank share their story
Learnings:
• Two competitors working together, what are the keys for a future collaboration
• Trust as an digital asset: for the consumers financial collaboration is based on trust
• The learnings of Aegon when implementing the customers journeys IDIN boarding & login together with Rabo Identity Services & Signicat as a proxy
Speakers of this Lunch Break are
Karel Roes - Senior Executive Identity & Access Management at Aegon
Olaf Thomas - Business Development Manager Open Banking, Digital Identity & Payments at Rabobank
This Lunch Break is supported by