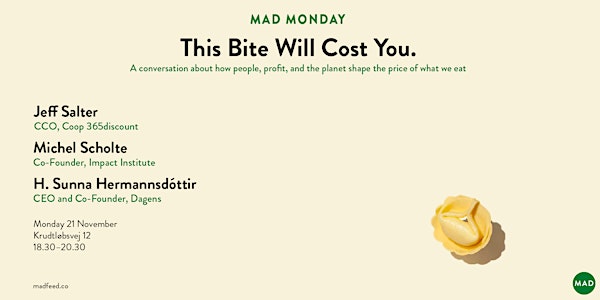 This Bite Will Cost You.
A conversation about how people, profit, and the planet shape the price of what we eat.
When and where
Location
Krudtløbsvej 12 12 Krudtløbsvej 1439 København Denmark
Refund Policy
Contact the organiser to request a refund.
About this event
Soaring food prices have become a pain point across the globe. Consumers—both individuals and institutions—are grappling with how to keep food costs under control. At the same time, there's widespread confusion about how pricing is set. What is the premium on an organic tomato? Why might we pay more for local pork?
For the third edition of our MAD Monday Fall 2022 series, we'll explore how various factors across the food chain shape the cost of our consumption—what goes into the prices of our everyday goods, and why they are more expensive right now. We'll seek answers to some critical questions: How, in a moment of financial pressure, do food system stakeholders weigh quality and sustainability on one hand and affordability on the other? How can we as consumers support better labor conditions and environmental stewardship even as we take advantage of scale?
The ticket price of DKK 180 includes a drink and a snack after the talk, as well as an opportunity to mingle and build connections within the MAD community.
Our Speakers
Jeff Salter is Chief Creative Officer of Coop 365discount. He has been a management consultant for large Danish companies; worked for six years at various commercial positions at Copenhagen Airports; and has for the past 11 years dedicated his professional life to the grocery business for SuperBrugsen, Netto, and 365discount.
Michel Scholte is an impact entrepreneur, director, and co-founder of both Impact Institute and True Price—the latter of which focuses on calculating and improving the true price of products, including social and environmental costs.
H. Sunna Hermansdóttir is a system designer with 15-plus years of food industry experience across the Nordics. She grew up in a farmer's family, always on a mission to bring nature back into food systems. Currently she is CEO and co-founder of Dagens, a B2B marketplace for direct trade between farmers and chefs, driving the regenerative food system shift across Europe.
The talk will be moderated by MAD Executive Director Melina Shannon-DiPietro.
** Main photo © Virginie Gosselin / Offset.com