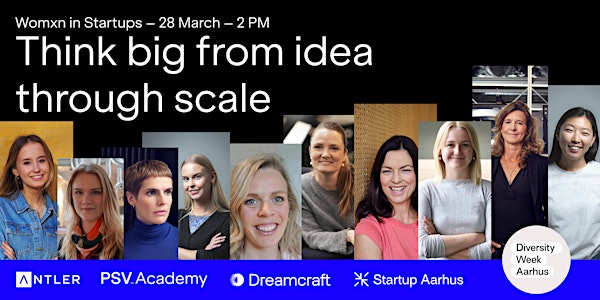 Think big from idea through scale - women in startup
We have gathered a team of female founders, VCs and business angels to pour out their learnings and knowledge on building a startup at scale
By PSV Academy, Startup Aarhus, Antler & Dreamcraft
Date and time
Tuesday, March 28 · 2 - 6pm CEST
Location
Salling ROOFTOP 27 Søndergade 8000 Aarhus Denmark
About this event
It's time for all the women of the Aarhus startup sphere join forces to lift each other up and built on each others experiences on how to break their way into a startup carreer - whether that's as a founder or employee in a startup.
Danish VCs PreSeed Ventures and Dreamcraft, and startup accelerator Antler have joined forces with Startup Aarhus to bring together all women interested in startups in a conversation on the topic of thinking big from idea thorugh scale.
Wondering about what it is all about? Here is a sneak peak of what will be happening.
We have gathered a team of female founders, VCs and business angels to pour out their learnings and knowledge on building a startup at international scale – all the way from taking the leap from a straightforward career in e.g. HR or law to raising venture funding in and outside of Denmark.
Kicking it off with a fireside chats with General Partner at PreSeed Ventures Helle Uth, Stine Mangor Tornmark, founder of venture backed startup Openli and former Senior VP og Legal & Compliance in Trustpilot and Sara Schjemte Madsen founder of Bclude.
The three will share everything from deciding to take the leap and become a founder, building a family while building a company to the inevitable question of fundraising in a male dominating investment landscape – all in a super community-driven atmosphere, so we can all pitch in and learn from each other.
We'll continue the sharing is caring style with roundtable discussions where we will dig deeper into your challenges and question to support you into taking the leap and take advantage of what the Danish startup ecosystem has to offer.
In the round tables there will be a long list of experienced startup women participating and pitching in: Marianne Hyltoft, Director of Deeptech at PreSeed Ventures with a background both as founder and business angel, Heidi Lee, previous founder and now VC investor at Dreamcraft, Line S. Aasen, Marketing & PR Associate at Dreamcraft, Alice Bo Killemose, Head of Brand & Community at PreSeed Ventures, Julia Nilsson, Senior Portfolio Manager at Antler Nordics, Olivia Lyng, Associate at Antler Nordics and of course Line Breckling from Startup Aarhus.
Afterwards we will head over to Merchant Room where we will slow down, fill up the glasses and network with the broader Aarhus ecosystem.
Join us to be inspired, meet like-minded female founders, and connect with women in startups - this is the place to be to possibly find a co-founder, your next colleague, a mentor or a new friend!
An event for everyone with a womxn in startups angle.
Agenda
2:00 PM - 2:15 PM
Network & Welcome
2:15 PM - 3:00 PM
Fireside and Q&A with Stine Manor Tornmark, Sara Schjemte Madsen and Helle Uth
3:00 PM - 3:45 PM
Round tables on careers, funding, breaking barriers + more as women in startup
3:45 PM - 4:00 PM
Recap, networking, and a walk 'n talk to Tir na nog for a beer…
4:00 PM
Tuesday bar at Tir na nog (Diversity equals inclusion, so open for everyone)
Frequently asked questions
Do you need to be a founder to participate?