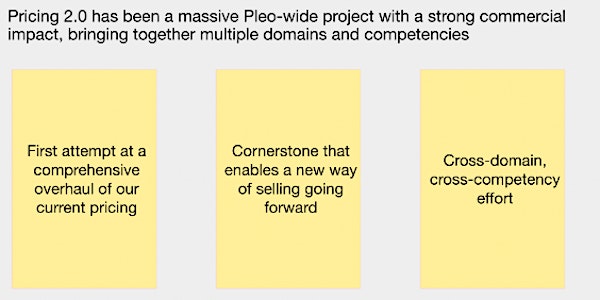 The Price Is Right - Pricing 2.0, Live and Kicking
We will be celebrating the hard work that went into our new pricing model by cheering, quizzing and giving out prizes... The Price Is Right!
When and where
Location
Stage 2.1 in PleoTown (dont look at G'maps) Amadria 38522 Sibenik Croatia
About this event
Be prepared to be enchanted. Get behind the scenes of the Pricing Project & the Pricing Model as we guide you through a crazy and fun ride of quiz questions especially created to puzzle you and wanting you to bring your A-game. (Your B-game is fine as well - we really mostly just want you to attend).
Throughout the quiz, we will be celebrating the shared effort of everyone involved in making Pricing happen and we will look at the preliminary results and what's next for the project and Pleo.
Get ready to get you groove on as we put you on one of Pleo's biggest planes, fly and land smoothly 30 minutes later.
And you might even leave with a Price. Cool, right!