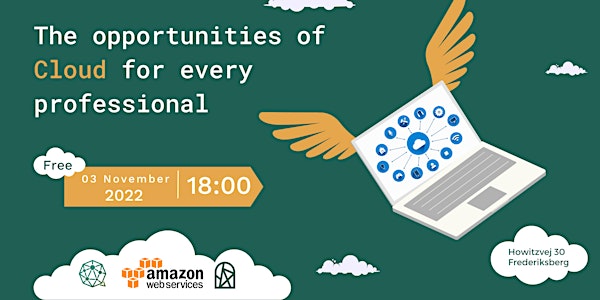 The opportunities of Cloud for every professional
Come join our event with Isaac Lenhart, Senior Solutions Architect at Amazon Web Services to cover the basics around Cloud.
When and where
Location
Station - a Student Innovation House 30 Howitzvej 2000 Frederiksberg Denmark
About this event
Are you a curious student, business professional or technical professional eager to learn more about Clouds opportunities and potential?
Then come join us for our Amazon Web Services x Digi-Talks and Station event. You will learn what Cloud is and discover what values it might bring to you as well as level up your skills. Your guide for this event is Isaac Lenhart, Senior Solutions Architect at Amazon Web Services, with more than X years of experience. He will talk about advantages, opportunities and how it can be used in the industry.
W͟h͟a͟t͟ ͟b͟e͟n͟e͟f͟i͟t͟s͟ ͟c͟a͟n͟ ͟i͟t͟ ͟o͟f͟f͟e͟r͟ ͟t͟o͟ ͟m͟e͟?͟ ͟
Cloud can bring opportunities to every professional in every area. It is more than likely that the website you are reading this post from is running services in the cloud as well. But what does that EXACTLY mean? We will learn this at this event.
We are ready to answer all your questions! And to give you a hint: yes, cloud experts are in demand and very well compensated!
Join us at Station on our first ever expert-led session and grow your skills and network no matter where you are in your career. Come listen, learn, eat and have fun!
P͟r͟o͟g͟r͟a͟m͟m͟e͟
17:45 - 18:00 ➡️ Doors open, Get to know the industry expert
18:00 - 18:30 ➡️ Presentation: What is cloud, Why is it important
18:30 - 19:00 ➡️ Food break and Networking
19:00 - 19:30 ➡️ Presentation: Career opportunities and a practical business case
19:30 - 20:00ish ➡️ Q&A session and discussion
Come and join the conversation.