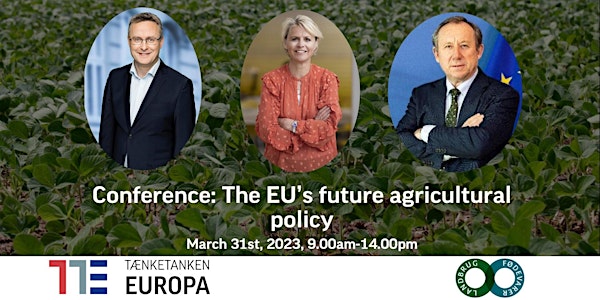 The EU's future agricultural policy
Conference on the EU's future agricultural and food policy
Date and time
Fri, Mar 31, 2023 9:00 AM - 2:00 PM CEST
Location
Fællessalen, Christiansborg Prins Jørgens Gård 1 1218 København Denmark
About this event
With the Green Deal for Europe the EU has set ambitious climate targets for the Union. The Green Deal contains measures to promote a sustainable and durable European food system that reduces CO2 emissions, increases resilience, guarantees food safety, and protects biodiversity and the environment in Europe.
These climate and environmental objectives persist despite Vladimir Putin's invasion of Ukraine. Nevertheless, the war has underscored the importance of ensuring European food sovereignty and limiting dependence on imports, as well as the need to rethink global agricultural supply chains and global food security.
The war in Ukraine has thus emphasised the need to rethink the EU's agricultural and food policy and explore innovative solutions that can help to achieve a better balance between the need to secure resilient food supplies and honour the EU's green commitments.
PROGRAM:
09.00 - 09.10 WELCOME AND INTRODUCTORY REMARKS
09.10 - 09.30 KEYNOTE: PLAYING TO OUR STENGHTENS: DANISH STRONGHOLDS IN FOOD & AGRICULTURE with Jacob Jensen, Danish Minister for Minister for Food, Agriculture and Fisheries.
09.30 - 10.00 KEYNOTE: WILL FARM TO FORK STRENGHTEN EUROPEAN FOOD SOVEREIGNITY? with Wolfgang Burtscher, Directorate-General for Agriculture and Rural Development, European Commission
10.00 - 11.00 PANEL: RETHINKING EUROPEAN FOOD POLICY – BALANCING EUROPEAN FOOD SOVEREIGNTY AND GLOBAL EXPORTS
- Jan Huitema, RENEW, Member of the European Parliament
- Harriet Bradley, Head of Programme: CAP and Food, Institute for European Environmental Policy
- Søren Søndergaard, President for the Danish Agriculture & Food Council
- Jesper Pagh, Group COO, DLG
11.00 - 11.15 BREAK
11.15 - 12.15 PANEL: THE FUTURE OF EUROPEAN AGRICULTURE – TOWARDS AN EVER-GREENER PRODUCTION
- Claus Crone Fuglsang, Executive Vice President, Novozymes
- Tavs Nyord, Senior Consultant at the Future Food Program, CONCITO
- Pekka Pesonen, General Secretary, Copa-Cogeca
- Hanne Søndergaard, Executive vice president, Agriculture, Sustainability & Communications, Arla
- Helle Borup Friberg, CEO, Økologisk Landsforening
12.15 - 13.00 PANEL: FROM GLOBAL RECOMMENDATIONS TO DANISH POLICY
- Erling Bonnesen, Venstre
- Charlotte Bagge Hansen, Moderaterne
- Christian Friis Bach, De Radikale
- Ida Auken, Socialdemokratiet
- Søren Egge Rasmussen, Enhedslisten
13.00 - 14.00 LIGHT LUNCH
The event will be moderated by Lykke Friis, Director of Think Tank EUROPA, and is organised by Think Tank EUROPA in collaboration with the Danish Agriculture and Food Council.
The list of participants and speakers is still to be confirmed. An updated programme including speakers will follow in due course.
PRACTICAL INFORMATION:
As the conference will be held in the Danish Parliment guests can expect to go through security checks upon entering the building. As this can take some time depending on the number of participants, we advise participants to arrive at least 30 minutes prior the beginning of the conference to facilitate a timely start.
The conference room, Fællessalen, can be found on the ground floor to the right of the entrance. An overview of the groundfloor plan, including where Fællessalen can be found, is attached to this event description.