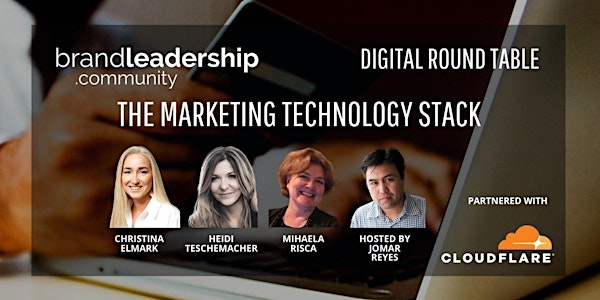 The eCommerce Technology Stack - Digital Round Table
In a closed online meeting, join our expert panel and your industry peers to discuss, some of the hot topics in optimising online business
Refund Policy
Contact the organizer to request a refund.
About this event
Topics Discussed
Customer experience – The art of Page Performance
Page speed vs. rich media balance
Risk vs. Turnover – Optimising Fraud prevention
Reliability & Stability – Always online through traffic surges and attacks
Data integration – Connecting source for business outcome
Web Platforms – Combining CMS, OMS & a Mobile First mindset

You will get a chance to join in and share your experiences, ask questions to the export panel & group and ultimately assist in getting to the next level of transformation in the online world business.
This is a closed online room environment and unrecorded, limited to no more than 25 attendees.
EXPERT PANEL
CHRISTINA ELMARK
Christina's passion and energy for digital business is infectious. With her career in digital starting in 1997, she has worked with brands such as Magazin du Nord, Ilse Jacobsen, Rosemunde, Bodum, Trollbeads and Sennheiser Communication.
She challenges the status quo of traditional business leading with the shift in using the latest in digital technology and data when it comes to eCommerce. Her experiences has given her priceless learnings and ultimately a track record of impressive results, positioning her as one of the leading eCommerce pioneers from the Nordics.
She is a founding member of the Brand Leadership Community Advisory Group and is heading up our eCommerce group.
HEIDI TESCHEMACHER
Over the last 15 years, Heidi has been at the forefront of brand growth through digital transformation in marketing and eCommerce. Heidi's drive lies in her innovative thinking, ability to challenge and transform mindset into 'customer-centric and less in-love with features'.
She was born into branding and retail, working at P&G, L'Oreal, Cloetta, Meny and Coop. Heidi is now Chief Commercial Officer at Life Extension Europe. In recent years, she has directed this company to focus on the advanced usage of data and relevance to its digital audience. This has delivered unprecedented results.
MIHAELA RISCA
Mihaela Risca has more than 20 years of IT experience, first as a software developer, then as a solutions architect and solutions manager for companies, like Cisco, NetApp, Cloudera, Pure Storage. Her diverse background gives her a broad perspective on technology trends and applications and she likes to stay on the cutting edge, at the intersection of technology and business.
Mihaela leads vertical marketing at Cloudflare and is responsible for translating technical capabilities into business value propositions for the different industries where Cloudflare operates.
Moderated by Jomar Reyes