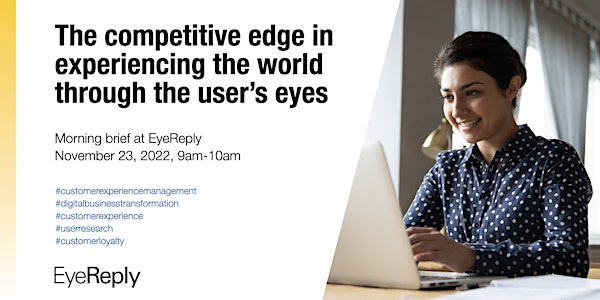 The competitive edge of experiencing the world through the eyes of the user
The competitive edge in experiencing the world through the users eyes. A talk about customer experience management and user research.
When and where
Location
Woods, Augusthus 106 Amagerfælledvej 2300 København Denmark
About this event
Join us for a talk on Wednesday, November 23, 2022 where CEO and Founder of EyeReply, Jakob de Lemos, will demonstrate how using eye tracking method, behavioral analysis and attitude-based research can be triangulated, systematized and quantified to obtain unique insights into how the user sees, perceives and experiences the world.
The talk will revolve around themes such as:
- How to collect, cultivate and curate rich, real, context sensitive insights and eye tracking data in a simple, time saving manner
- Expanding from data and insights based on "what" happens in the interaction between user and product/service to "why" it happens
- Deducing concrete, actionable insights and ensuring their impact on the business
From the talk, you will:
- Get a demonstration of how a triangulation of eye tracking, behavioral analysis and attitude-based research can cultivate unique context sensitive knowledge for you to act on
- Learn how to use context sensitive metrics and insights to ensure an optimal user journey
- Gain an understanding of how collection of context-based user insights can provide a competitive advantage through case examples
When: Wednesday, November 23, 2022. From 09.00AM - 10.30AM.
Where: EyeReply - Augusthus. Amagerfælledvej 106, 2300, Copenhagen S.
Sign-up is required. The event is free and everyone is welcome.
Programme:
08.30 - 09.00: Sign-in/arrival and coffee.
09.00. - 10.00: Presentation: The Competitive Edge of Seeing, Perceiving and Experiencing the World through the Eyes of the User - by Jakob de Lemos.
10.00 - 10.30: Networking and experience exchange.
About EyeReply
At EyeReply, we see the world through the eyes of the user. We research and test how the user understands and uses your products and services. We help improve the communication and experiences of the user journey to gain valuable insight in the user experience as well as making these concrete.
At EyeReply, we frequently host free talks and meetings to share valuable knowledge on optimization and user experience and journeys.
We look forward to seeing you!