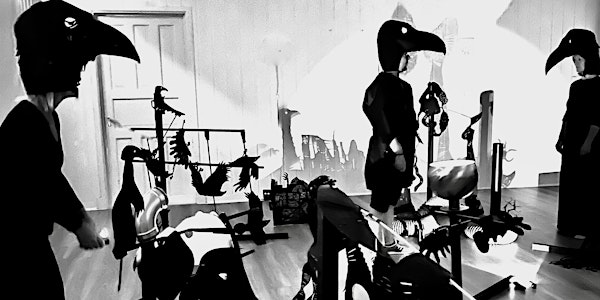 THE BIRD LADIES 3 October 2022 (3 performances)
HenBlakstad Productions & Animalske Productions present "The Bird Ladies", an interactive shadow installation in a dystopian environment
When and where
Location
LiteraturHaus 7 Møllegade 2200 København Denmark
About this event
ABOUT "THE BIRD LADIES"
HenBlakstad Productions in co-production with Animalske Productions from Norway have produced "The Bird Ladies", an interactive shadow installation placed in a dehumanised dystopian environment. This event is part of the Climate Thanatology project to be showcased during SixtyEight Art Institute's intensive programme The Curatorial Thing. This event takes place on 3 October 2022, with 3 free performances: 5 p.m., 6:30 p.m., and 8 p.m., limited to 20 people each.
Sound design by experimental music duo silo portem in collaboration with musician Catharine DeLong on the harp, and shadows created by visual artist Guri Guri Henriksen highlight the atmosphere in this post-apocalyptic landscape
In this landscape two ladies are captured, as if they exist in a time loop, where they are exposed to a conspicuous and relatively abrupt change of body form. A habitat that shapes and transforms them into creatures similar to birds, The Bird Ladies. From loud speakers, a voice rapidly lists a variety of animals, and talks about the risks of disappearance. "Is there something we human beings have misunderstood?" the voice asks. The Bird Ladies invite the audience to join them in a ritual, as witnesses, in the hope of change, to break free from this cycle of repetition.
Henriette Blakstad: Concept, performer, production manager, costumes (NO)
Anne Mali Sæther: Concept, dramaturgy, performer, text (NO)
Guri Guri Henriksen: Concept, visual artist (NO)
silo portem: Sound Design- multimedia experimental music (UK)
Catharine DeLong: Musician- harp (US)
Paul Vidar Sævarang: Light Design (The Norwegian Opera & Ballet).
Lasse Heggen Raa: Technician on metal work installation (NO)
Minali Conrad/Espen Sæther: Sound technician (NO)
FUNDED BY:
Billedkunstnernes Vederlagsfond (NO)
Danse og teatersentrum (NO)
Norwegian Ministry of Foreign Affairs (NO)
Fond for Utøvende Kunstnere (NO)
SixtyEight Art Institute, Copenhagen (DK)
Curator Heidi Hart Ph.D. Art and Humanities Research Fellow SixtyEight Art Institute (US)
Studium Actoris, Fredrikstad (NO)
Nesoddparken Kunst- og kulturnæringssenter (NO)
THANKS TO:
Merete Morken Andersen for studio space (NO).
Studium Actoris- a laboratory for the actor's physical expression. For support and guest shows (NO).
Digerud Grendestue for studio space (NO).
For young adults and adults.
Length 35-40min.
ABOUT THE COLLABORATION
Animalske & HenBlakstad Productions and Guri Guri Henriksen collaborate with the Interactive Shadow Installation, "The Bird Ladies". For seven years Anne Mali Sæther (director), Guri Guri Henriksen (paper cuts), and Henriette Blakstad (actor) have involved themselves by working with paper, lights, sound, text and movement, in spaces covered in total darkness with unlimited abilities to discover through light and shadows. A concept where themes connected to nature, loss, inadequacy, grief, exquisite beauty, and everlasting research in direction of theatre, installation, concepts, dance and composition which has resulted in several interactive performances across Norway. Separately they have had a curriculum where visual art and performative work has taken them to France, China, Singapore, UK, Iran, India, Scandinavia, Russia and so on…
What connects them is their deep interest in shadow work and the reality of climate change. The work of shadows; to almost lose a sense, the sight in the dark room, and to sharpen the focus through light sources, and the touch. The revelation of gravity abolition, the changes of surfaces and size, is a great catalyst for a theme that moves towards such an all-consuming, all-encompassing whole as climate change does.
In this production they work with two musicians to make a voice over connected to the Climate Thanatology concept, sound designer Silo Portem, multimedia-experimental musicians, and Catharine DeLong harpist who works with music-thanatology at hospitals in Utah and New York, where she brings intimacy and comfort to end-of-life patients.
ARTISTIC TEAM
Henriette Blakstad (she/them- Norway) has more than 30 years of experience within the interdisciplinary, contemporary theater as an actor, director, educator and text developer. She has as a director and an educator immersed herself within highly visual, physical, experimental and compositional methods.
Her education is from Oslo National Academy of the Arts- The academy of Theatre with a Post Certificate in Education, Kristiania University College- School of Arts Design and Media- The academy of Acting in Oslo, and Oslo National Academy of the Arts; The academy of Dance (BA). From 2010-22 she has educated herself within The Viewpoints with Anne Bogart and SITI- Company, and Wendell Beavers/Mary Overlie with several workshops in USA (SITI Summer, Skidmore), Italy and Norway.
Henriette is Art and Managing Director for, HenBlakstad Productions (2011- ), with productions performed and produced in Beijing, Guangzhou, Singapore, Copenhagen and Norway.
In 2022-24, HenBlakstad will produce "The Bird Ladies"- Climate Thanatology, SixtyEight Art Institute/Heidi Hart Ph.D, Animalske Productions (NO/DK/US), "THE INVISIBLE- Under the surface/between the layers", new text for stage- STUDIUM ACTORIS (NO), "ROBIN"- new written queer text, Vårscenefest in Tromsø, Vilje Productions (NO).
She has long work relations as an actor with Animalske Productions, Grusomhetens Teater, Merete Morken Andersen and Marius Kolbenstvedt (NO) touring the UK, India, Iran, Japan, Denmark and Norway.
Henriette works as a theatre educator, assistant professor with professional artists at colleges, universities and academies. Henriette has in-depth knowledge of contemporary theater, The Viewpoints method (USA) composition work, Gaga method (Israeli) movement work, Suzuki method for actors (Japanese) and Zygmunt Molik (Grotowski, Polish), the last two are physical voice training.
Anne Mali Sæther (Norway) is a director, playwright, project manager, theater educator, a mentor in performative art, and Art Director for Animalske Productions.
Anne Mali has staged over 60 performances and been the scriptwriter/co-author for close to 50 performances. She has worked in most genres and often developed performances "on the floor" in close collaboration with the production's other artists. Music, physicality and visuality have been central aspects in her work.
As an educator, she has Associate Professor qualifications and has worked at a number of art colleges/academies. She has extensive experience as a project manager, and from cultural policy work. Mentioning; as a project manager for investigations, created action plans, has participated in several setting committees and committees to develop, and strengthen the quality of performing arts in Norway.
Anne Mali is a highly regarded mentor in the field of performative art, and is connected to SEANSE Art Center- Youth Mentor Program in Norway.
She has received several awards for her work as a director and actor, and holds a grant for senior artist from, The Arts Council of Norway.
Anne Mali sees performing arts as a three-dimensional exploration arena for contemporary existential issues and for artistic forms of expression. She has used scenic shadow work as a concrete research "object", and as a symbolic, psychological and metaphorical source of inspiration. Thematically her company, Animalske Productions has focused on the dark aspects of humanity, their inability to provide for, and share the resources on earth, with a main focus on endangered animal.
Guri Guri Henriksen (1969, Norway) is educated at the Art Academy in Paris (l'ecole national supérieure des Beaux-art de Paris). Her work has been shown at international short-film gestivals. She has taken part in the Norwegian drawing biennial, the annual east-Norway exhibition, and The annual west-Norway exhibition, and her work has been exhibited at the Norwegian Drawing Association. In 2014/15, she began collaborating with theater director and playwright Anne-Mali Sæther and the actor Henriette Blakstad. Since then, Henriksen has created the visuals for several shadow productions and is now working on "The Lady Birds" a production/installation where the public can participate. In parallel, she has worked with paper in larger art installations. Guri Guri has received several work grants, project grants, and travel grants. In autumn 2020 she had a solo exhibition at Galleri Vanntårnet, Nesodden Art Association, and in summer 2022 she had a solo exhibition at Sogn og Fjordane Art Museum in Førde.
Thematically, she works with personal experiences within visual art. In collaborative projects, she works with issues around endangered animals, primeval forests and climate issues.
silo portem (Scotland) silo portem are an Edinburgh-based multi-media/experimental music duo and married couple, Simon & Gillian Young. They create improvised music that combines elements of contemporary classical music, dark ambient, film soundtracks and their field recordings, to create a unique multi-layered sound that defies categorisation. They complement their performances with their own experimental films. They also host a bi-monthly experimental music radio show for the residential arts organisation based in the French Pyrenees, CampFR (http://listen.camp/), featuring past and present pioneers in sound, alongside their latest improvisations.
Collaboration has long been a feature of their work that has seen them provide music for various film-makers, animators and choreographers. Their self-released last album, "LC-20", featured recordings made during 2020 Lockdown in collaboration with the co-directors of the Tehran Contemporary Music Festival, Idin Samimi Mofakham and Martyna Kosecka, as well as material provided by SixtyEight's Heidi Hart. She in turn introduced them to thanatologist Catharine DeLong and artist Julia Adzuki, who provided recordings of their harp and astounding "tree instrument" respectively for silo portem to incorporate into their current album "Climate Thanatology". Parts of the album will be used for Anne Louise Blicher's "Grief Shrine" installation, as well as the soundtrack to the performance of "The Bird Ladies" by HenBlakstad Productions and Animalske Productions, during the Curatorial Thing.
Catharine DeLong (Utah/USA) currently serves individuals nearing the end of life as a music-thanatologist and chaplain for Aspire Home Health & Hospice patients in Salt Lake City. Prior to covid-19 she delivered music sessions to palliative patients at Bellevue Hospital, Mount Sinai, and also individuals served by Visiting Nurse Service Hospice of New York in Manhattan. As a core faculty member of the New York Open Center, Catharine presented workshops; "Introduction to Thanatology '' and "Music as Medicine at the End of Life '' for the Open Center's Art of Dying Institute. She facilitated the Integrative Thanatology Certificate program from 2018 through 2020. Catharine currently provides remote music sessions for covid patients, and also for end stage breast cancer patients affiliated with the You Can Thrive Foundation. As a composer and performer, she collaborates with Colors in Motion, a creative consortium that brings calming audio-visual meditations to public spaces.
The harp has been a vital part of her life since the age of eleven when Catharine began private lessons. She has performed for many years as a freelance musician, providing music for special occasions, as well as for church services, and recording sessions. Her employment has included representing a premiere harp manufacturer, Lyon & Healy, as a member of their L&H West sales staff for several years. Catharine is a registered Suzuki harp teacher, and maintain a small teaching studio.
Her latest harp compositions were featured online in the Colors In Motion in November 2015 Touchstone presentation, "Sublime." As an ordained interfaith minister, Catharine affiliated with the One Spirit Interfaith Alliance.