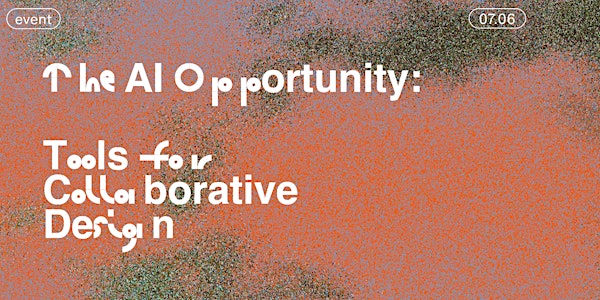 The AI Opportunity: Tools for Collaborative Design
How might designers and architects use AI to challenge past practices and work towards planet-positive living?
Date and time
Wed, 7 Jun 2023 17:30 - 20:00 CEST
Location
SPACE10 10 Flæsketorvet 1711 København Denmark
About this event
Generative AI tools allow anyone to visualise their ideal homes, products, and cities. By experimenting with these technologies as creative collaborators in the design process, we can collectively and contextually use them to build more sustainable and circular daily lives.
To dig deeper into AI's design potential, SPACE10 will host a conversation that challenges past design practices and parameters. We will explore how designers and architects can integrate these tools into their own work, and share recent experiments with oio and Panter&Tourron.
About the speakers
Stefano Panterotto and Alexis Tourron are co-founders of Panter&Tourron, the award-winning studio based in Lausanne, Switzerland. They collaborate with brands and partners offering expertise on commercial works and research across spatial and product design, creative direction, and consultancy.
Simone Rebaudengo is a product and interaction designer based in Belgrade and co-founder of oio. His work focuses on building experiential versions of the future and exploring the implications of living and interacting with networked, smart and autonomous things.
Georgina McDonald works with creative and partnerships at SPACE10.
Alexandra Zenner works with creative and planning at SPACE10.
How to attend
Our events are open to all and free to attend. Please register in advance via the button below.
Join us at SPACE10 in Copenhagen on Wednesday 7 June 2023 5:30pm CEST. We hope to see you there!
Program
5:30 – Doors open
6:00 – SPACE10 on AI and design
6:15 – Keynote: Panter&Tourron
6.30 – Keynote: oio
6:45 – Break
7:00 – In conversation
7:30 – Drinks
8:00 – Thanks for tonight
Collaborators
oio is a creative studio on a quest to turn emerging technologies into an approachable, everyday and sustainable reality — for humans and beyond. The studio pushes for an impact that outweighs its footprint, and has collaborated with IKEA, Google, the Museum of the Future, Arduino, Logitech, and Fundación Telefónica.
Panter&Tourron works at the intersections of design, technology, and society through the creation of products and visual experiences. The team is driven by material investigation and technical innovation, challenging the contemporary codes of objects and images.
About CAFx + SPACE10
The theme of this year's Copenhagen Architecture Festival is Life form. Exploring the wild ideas of our time — from regenerative design to symbiotic co-creation and biomimetics — it aims to expand our understanding of landscapes, city planning, and the built environment in the age of natural crises.
In conjunction with CAFx, SPACE10 will be hosting a series of workshops, exhibitions, and talks that open a conversation and spark new ideas about relating more intimately to the world around us, seeing our buildings as habitats and our cities as ecosystems.
About 3daysofdesign
3daysofdesign is Denmark's annual design festival. It is a platform that showcases and celebrates great design, and is a frame for people to meet, network and be inspired. Celebrating its 10th anniversary in 2023, this year's event will feature 280 brands spanning furniture, lighting, accessories, and materials. SPACE10 is partnering with 3daysofdesign on a series of events focused on sustainability through design.
Accessibility
SPACE10 Library and Gallery are accessible for people with disabilities and people who use mobility aids. We also have accessible toilets.
For any questions regarding access to our space, please contact us via discover@space10.com.
About the organiser
SPACE10 is a research and design lab on a mission to create a better everyday life for people and planet.