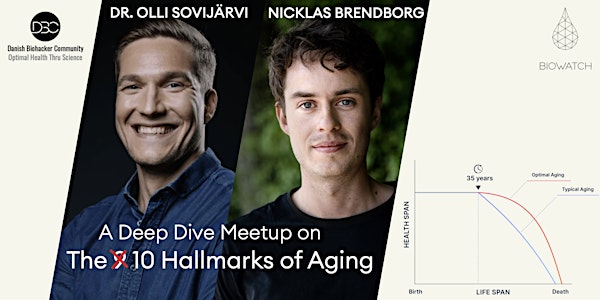 The 10 hallmarks of aging - with Dr. Olli Sovijärvi & Nicklas Brendborg
Location
Matrikel1 - Mesh Community
Gammel Strand 28
1202 København
Denmark
UPDATE: Nicklas Brendborg is joining for a panel-debate/Q&A with Dr. Olli Sovijärvi! Learn how to reverse ageing and extend healthspan.
About this event
Longevity is without a doubt the most researched area in the Health and Wellness industry right now!
The problem is, unless you are Jeff Bezos or Elon Musk, it'll be decades before you can benefit from the latest reseearch.
This meetup will be a practical guide based on the latest research in the field of longevity!
But why wait?
Many experts agree that you can significantly extend your life span and your healthspan thrugh lifestyle hacking.
The Danish Biohacker Community is proud to welcome Dr. Olli Sovijrvi to a deep dive session on the history of anti-aging research, recent discoveries and lifestyle hacking. As always there will be plenty of opportunities to ask questions from our speaker and the team.
17:00 - Doors open
17:30 - Welcome
17:40 - Keynote with Dr. Olli Sovikärvi
18:45 - Panel debate/Q&A with Nicklas Brendborg & Dr. Olli
19:30 - Goodbye for now!
The event is organised in association with Biowatch.me
To cover for the cost of the event we charge a small fee for tickets.
We have a limited nuber of seats, so book your ticket before it's too late!
---00---
Who is Olli?
Dr. Olli Sovijärvi is one of the pioneers of holistic medicine in Finland. He has worked at nearly 50 different clinics and ERs around Finland. Dr. Sovijärvi has also acted as consultant to various companies and service providers operating in the fields of wellness and health technology. Between 2013–18, Dr. Sovijärvi practiced medicine at a private clinic that specializes in nutrition and holistic health care. At present, Sovijärvi focuses primarily on the production of scientific content for preventive health care and wellbeing. He is a co-author of the Biohacker's handbook and co-founder of Biohacker Center. He also runs training sessions and presentations on the topics of biohacking, performance optimization, nutritional issues, and maintaining the intestinal balance. In his free time, he is an exercise enthusiast and an electronic music DJ.
Who is Nicklas?
If you're from Denmark, you have probably heard about the book Gopler ældes baglæns!
Nicklas is one of the most promising research talents in biotech and author! His best-selling book has just been released in english with the title Jellyfish Age Backwards: Nature's Secrets to Longevity, and it is already making waves all around the world!