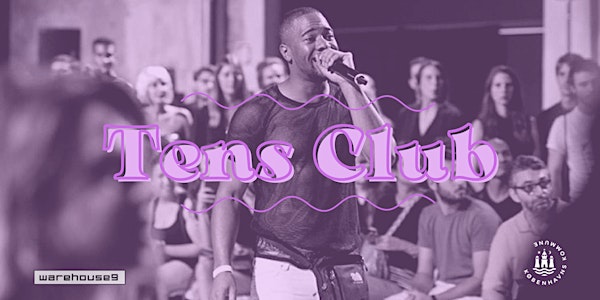 Tens Club: Commentator edition
Tens Club: Commentator edition
When and where
Location
Lygten St Lygten 2 2400 København Denmark
About this event
Warehouse9 presents Tens Club: our community ballroom events facilitated by Beck Prodigy McQueen. Unlike regular balls, this workshop and community event give people within the ballroom scene an opportunity to work with the crafts of the field.
In this first edition of Tens Club, we explore the craft of commentating in the ballroom scene.
Before this event, on the 2nd of September, Typhoon Prodigy from the Netherlands will teach 10 participants about the art of commentating during an intense 4-hour workshop.
During the workshop, they will perfect their skills and prepare a work sharing of everything they have learned. Here the participants will show off their skills by commentating on categories like performance and runway and in commentator vs commentator.
This community event is rooted in the want for sharing the ballroom experience within the community, and at the Tens Club on the 3rd of September, you will experience creative commentating, voguing, runway, and good vibes.
After all the tens have been given, we will make room for the DJ, Suzie the Cockroach to shine and fill the room with some ballroom beats after the performance.
ACCESS INFO:
The main entrance to the venue has three steps. The venue can be accessed step-free from the back entrance (Lygtens Plads) on request. Please either email us in advance (tickets@warehouse9.dk) or talk to our Front of House staff on location. The ground surrounding the venue is cobblestone. All toilets are gender-neutral and one is certified accessible to wheelchair users.
Lygten Station is registered at Access Denmark
https://accessdenmark.com/factsheet/lygten-station-8437?fbclid=IwAR3rLmWjv47gglvsWKBreWSm4MT02LzzXBnxfOGyg9tk43Ek-51CAlg2ZXI
BRAVER SPACE POLICIES
As always, Warehouse9 strives toward securing safer spaces for our community, and this workshop will fold out in secure surroundings. However, the ballroom community is a braver space where we welcome extravagant behaviour. We also note, that it is considered normal to take pictures of the performers, and photography will therefore occur.
What is ballroom?:
The underground ballroom scene has its roots as far back as the 1920s in Harlem, New York, and was created by the Black and Latin Trans women and Drags, as a new safe space due to racism they faced within the white pageant scene. It evolved into many new categories and became not only a space for trans women of color to enjoy the safety of the community but for all queer people of color to create and express what was not allowed at the time to express in the public.
While the community is not as segregated as it used to be, we remind you that the space was created and is ruled by people of color, and we remind you that the underground ballroom scene will not accept any types of racism, homophobia, transphobia, ableism, body shaming, or any types of discrimination. Ballroom welcomes everyone and respects everyone, regardless of race, gender, ethnicity, body, sex, or status. Ballroom is a place of love, unity, creativity, and mutual respect.
If you are not a person of color and/or a person of queer experience, we would like to reinstate that you are a guest within the ballroom community and should follow rules as everyone else. Please be mindful of the space you take as a guest, and you will be welcomed with open arms.
Warehouse9's Tens Club ballroom event is supported by Københavns Kommune