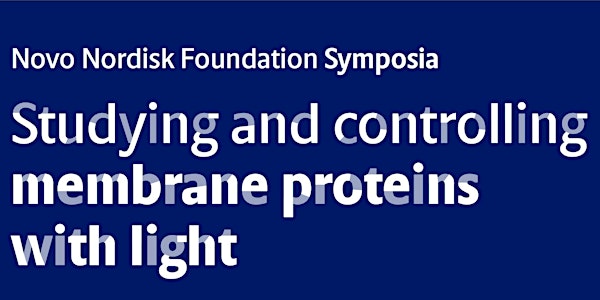 Symposium: Studying and Controlling Membrane Proteins with Light
When and where
Location
Novo Nordisk Fonden Tuborg Havnevej 19 2900 Hellerup Denmark
Description
Concept
The Novo Nordisk Foundation offers funding for one-day symposia to be held at the Novo Nordisk Foundation. The objective is to provide leading as well as younger researchers with opportunities to present and discuss the newest research within their fields.
You can read more about Novo Nordisk Foundation Symposia here
Symposium:

Studying and Controlling Membrane Proteins with Light
This symposium is organised by Stephan Pless, Associate Professor at the University of Copenhagen and Hanne Poulsen, Assistant Professor at Aarhus University.

Membrane proteins such as ion channels, transporters, pumps and G protein-coupled receptors make up 20–30% of the proteome and play crucial roles in human physiology, both in health and disease. Despite their great importance in many tissues, detailed insight into the molecular mechanisms of membrane proteins has been exceedingly difficult to obtain, since they are embedded in a lipid bilayer, making membrane proteins inherently difficult to study. Currently, several methods are emerging in which fluorescence enables novel ways to study or manipulate membrane protein function to elucidate their molecular function or contribution to such things as neuronal circuits. The aim of this symposium is to inspire membrane protein researchers by showcasing state-of-the-art fluorescence-based techniques that open novel possibilities to study and control the function of membrane proteins in a variety of settings, ranging from single-molecule work to controlling neuronal networks.
Speakers:
Anna Moroni, University of Milan, Italy

Peter Hegemann, Humboldt University of Berlin, Germany

Antoine Triller, École Normale Supérieure, Paris, France

Ofer Yizhar, Weizmann Institute, Israel

Ehud Isacoff, University of California at Berkeley, United States

Justin Taraska, National Institutes of Health, Bethesda, MD, United States

Baron Chanda, University of Wisconsin, Madison, United States

Yuki Bando, Columbia University, New York, NY, United States



Unfortunately, Professor Adam Cohen will not be able to participate in the symposium as originally planned.
Program
Please see the Novo Nordisk Foundation website for the preliminary program.
The final program will be sent to all participants before the symposium, and will also be available at the venue.


Posters

All attendants are encouraged to bring a poster for the poster session within the following categories:
Membrane protein structure
Membrane protein biophysics
Computational biology
Single molecule studies
Optogenetics
Synaptic imaging/physiology
Systems neuroscience
Posters will be exhibited during the symposium and discussed during a poster session.
There will be a poster competition among posters presented by students and postdocs with cash prizes for the best posters.
If you wish to bring a poster, please select participation with poster when signing up.
The poster should fit a poster board size A0 (841mm × 1189mm) – portrait orientation.

In order to ensure that all posters are relevant to the symposium, the poster titles will be sent to the organising committee. You will be notified via e-mail whether your poster has been accepted approximately one week before the symposium. Only posters that are found to be off topic will not be accepted.
FAQs
How can I contact the organizer with any questions?
If you have any questions regarding the symposium or the registration process, please contact Christina M. Hald (cnmh@novo.dk)
Who can attend the symposium?
The symposium is open to participants of all career levels from student to professor.
Can I update my registration information?
Yes, just log in to Eventbrite. Please use this option also in the unlikely event that you need to cancel your registration.
How do I cancel my participation?
Please help us respecting our speakers and other participants, as well keeping track of the numbers and optimize lecture and catering to the audience by cancelling as soon as you know that you exceptionally will not be able to make it. You can either cancel through Eventbrite or send an email to Christina M. Hald (cnmh@novo.dk)
Is it ok if the name on my registration doesn't match the person who attends?
No, since there will be name tags at the symposium, we ask that you do not give your spot to someone else without updating the registration information.
What are my transportation/parking options for getting to and from the event?

If you arrive by car, it is possible to park in front of the main entrance, or along the side of the building.
Alternatively, it is possible to park in the parking garage at Waterfront Shopping Center, which is a five minute walk away from the Foundation. The parking garage offers three hours of free parking, and each additional hour costs DKK 20.
Public transport by train to Hellerup station, and/or bus (1A, 21, 166). The nearest by bus stop is Tuborg Boulevard.
Do I have to bring my printed ticket to the event?

No, you do not have to bring a ticket, but registration is mandatory for participation.