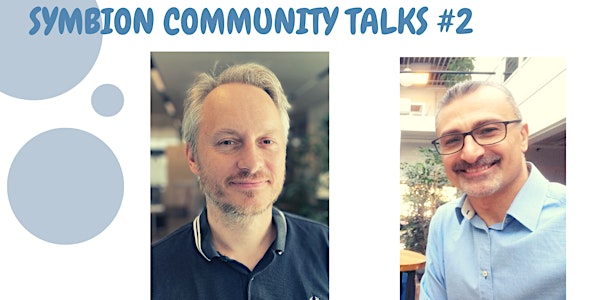 Symbion Community Talk on AI
Symbion Community Talk on Artificial Intelligence
When and where
Location
Symbion Fruebjergvej 3 2100 København Ø Denmark
About this event
Welcome to a great afternoon with two CEO's who will share their startup story and talk about how they use AI in their work; Serkawt within health data and Jakob within computer animation.
Serkawt Khola, CEO, EvoPlexus Medics (Symbion)
The When, Why and How - A journey from theoretical, to practical to standardization of AI solutions.
EvoPlexus Medics is a start-up that emerged from academic research and has built and developed its products and services around novel and cutting-edge AI/ML based technologies. Its founder has 20+ years of experience in this field and has applied these technologies to different sectors and markets. EvoPlexus Medics, "aims for a more sustainable transformation of the healthcare sector". Its vision and mission is to optimize this field through the use of cutting-edge technologies to make healthcare more holistic, equal, affordable, precise, accessible and preventive for the benefit of patients, clinical staff and the society at large. In this presentation, we present a glimpse into this long journey together, with highlights of selected projects where AL/ML were applied and ending with the Endless Universe!
Jakob Rasmussen, CEO, Apex Game Tools (Univate)
AI and the Games Industry
Computer games are increasingly taking over our free time and social space. Artificial Intelligence (AI) and especially machine learning plays a major role in how computer games are able to capture our attention and grow the computer games industry. Apex Game Tools has as a provider of software tools and knowledge been part of the journey of the industry. This talk provides a peek into how AI is transforming the computer games industry and pushing the state-of-the-art in other industries from automotive to health care.
About the Community Talks
The idea behind these Community Talks is to create a forum where all the interesting, creative and curious people in our community can meet, network, share knowledge, learn and be inspired.
The Community Talks will take place last Tuesday each month between 16-18 at Symbion, Fruebjergvej. In time we will also arrange Community Talks at the other location.
We are going to go invite one or two companies/organizations within the Symbion Community to share their startup story; The knowledge/science on which the idea was build, the challenges and the successes. Sometimes we will invite an external expert. Each Community Talk has a different topic, and everybody within and outside the community is very welcome to attend.