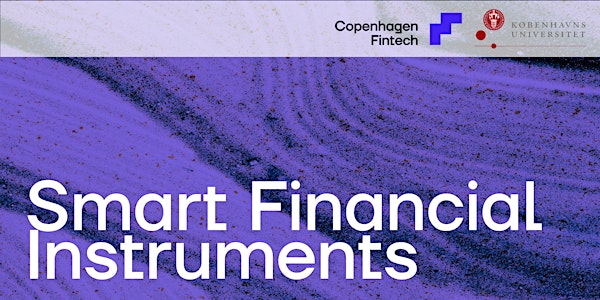 Smart Financial Instruments in Fintech
Deep dive into Smart Financial Instruments (SFI), a ground-breaking end-to-end digitalized platform for fintech.
When and where
Location
Copenhagen FinTech Lab 7 Applebys Plads 1411 København Denmark
About this event
With the recent adoption of the DLT Pilot Regime as part of the Digital Finance Package, the EU has signaled its commitment to boosting Europe's competitiveness and innovation in the financial sector. SFI is a new regulated component-oriented platform being developed by Deon Digital, based on pioneering research at the Department of Computer Science at the University of Copenhagen (DIKU) and an open partnership with Agreena ApS, BEC Financial Technologies and Capital Market Partners.
It comes with a secure smart contract language for expressing standard securities such as fixed-rate bonds, novel crypto assets and advanced financial instruments such as KPI-linked green bonds; programmable trading, from simple bid-offer matching to secure auctions; subsecond settlement of trades; tamper-proof storage with real-time reporting and monitoring of settled trades; and high throughput, scalability and energy efficiency.
At this event Copenhagen Fintech invites you to take a peek at SFI, about the challenges it addresses and the unique opportunities it provides for the Danish financial sector and beyond.
The event is hosted in collaboration with the University of Copenhagen and Copenhagen Fintech. Please reach out to Fritz Henglein (henglein@diku.dk) if you have questions about the event.
Agenda
14:00-14:05 Welcome by Copenhagen FinTech
14:05-14:15 Welcome by Fritz Henglein (Professor, DIKU, and Head of Research, Deon Digital)
14:15-14:35 Henrik Axelsen (Ph.D. Fellow, DIKU): Smarter financial instruments -- why, what and how?
Henrik will talk about the challenges such as greenwashing, lack of trackability of funding, manual reconciliation, expensive compliance reporting facing current financial markets and how smart financial instruments, which combine the benefits of decentralized finance and traditional finance, address these.
14:35-15:00 Roman Tuor (Head of Financial Services, Deon Digital): Smart Financial Instruments in action.
Roman will demonstrate the current implementation of the SFI system by showing some aspects of the creation, issuance, trade and settlement as well as the life-cycle of a fully digital bond; in the process he will highlight some of SFI system's unique technical features allowing to digitize and automate the entire debt market value chain.
15:00-15:10 Christian Tygesen (Senior Consultant, Capital Market Partners): How DLT can handle new ESG instruments more efficiently.
Christian will provide insights into current and new EU requirements on ESG-data reporting, which provide additional challenges and opportunities.
15:10-15:20 Søren Andersen (Specialist, BEC Financial Technologies): DLT and ESG challenges and opportunities for the Danish financial sector.
Søren provides insights into how DLT and ESG may benefit Danish financial market participants based on his extensive professional experience covering financial sector stakeholders.
15:20-15:30 Lars Navntoft Henningsen (Specialist Consultant, Danish Financial Supervisory Authority)
Lars presents how the Danish FSA looks upon and works with new technologies, with a special focus on DLT and blockchain.