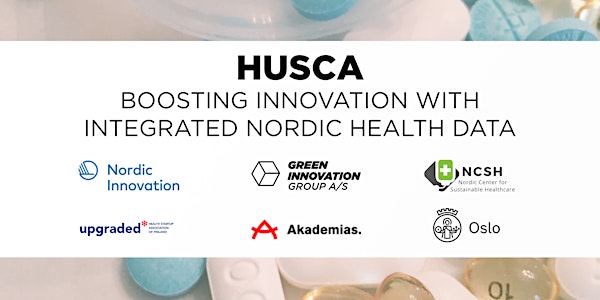 Shared Health Data - Exploring Nordic Vision 2030 [Health WS1]
This Health sector saves lives - but how might we reduce the footprint through decentralisation, digitalisation and regional data sharing?
By GREEN INNOVATION GROUP
Date and time
Tue, Nov 30, 2021 6:00 AM - 8:00 AM PST
About this event
In this workshop we're co-creating a more sustainable future.
Together, we're envisioning what an innovative and connected Nordic region would look like if health data was shared seamlessly across public-private partnerships in the region.
Shared health data plays into the circular economy, as well as clinical research, clinical trials, treatments, innovation- and development efforts means reduced friction and higher degrees of utilisation of expended resources.
However, innovating for a more sustainable health care is not easy - this event bridges the stakeholders in the Nordic ecosystem for Health Tech and allows for knowledge and experience sharing.
The attendee landscape will consist of thought leaders in different aspects of the Health Innovation Ecosystem in the Nordics.
The events also target industry professionals, growth capital, universities, health care sustainability professionals, regulatory public bodies, and other relevant stakeholders.
Note: This workshop is mainly directed at stakeholders from the public health sector, however, players from life science or connected industries are very welcome as well.
________________________________________________________________________________________________
AGENDA
15:00 - 15:15 : Arrival & Welcome By GIG and NCSH
Brief introduction of participants
15:15 - 15:20 : Introduction to Science-Fiction prototyping (methodology)
15:20 - 15:55 : Envisioning the Nordic 2030 vision through Sci-fi prototyping
Here we get our hands dirty and start co-creating
15:55 - 16:00 : Break
16:00 - 16:20 : Individual condensation of findings
16:20 - 16:45 : Challenge collection and Knowledge Sharing
16:45 - 17:00 : Roundoff
About the organiser
GREEN INNOVATION GROUP makes green business good business. 
GREEN INNOVATION GROUP provides you with the unique opportunity to see some of the most promising green tech innovations and startups in Europe.
GREEN INNOVATION GROUP connects cutting-edge green tech startups with risk-willing capital and strategic partners.