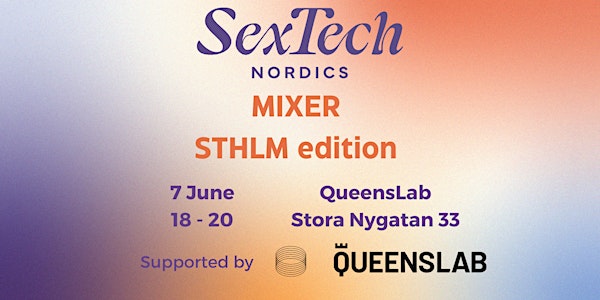 SexTech Mixer - Stockholm edition
SexTech Nordics provides platform for sex-positive brands, creators and talents to meet, connect, share and collaborate in future projects.
Date and time
Wed, 7 Jun 2023 18:00 - 20:00 CEST
Location
Stora Nygatan 33 33 Stora Nygatan 111 27 Södermalm Sweden
About this event
SexTech Mixer is a unique platform for individuals and companies who are passionate about the intersection of sexuality, technology and society. This event is intended to bring together sex positive* brands, founders, content creators, developers, designers, artists, performers, talents, therapists, coaches, sexologists, educators, researchers, students, investors, and other interested individuals to network, collaborate, and discuss the latest developments and trends in the industry.
Preliminary program:
18.00 - Arrivals & registration
18.30 - Welcome & introduction of SexTech Nordics
18.45 - Presentation (speaker TBC)
19.00 - 19.30 - Speed dating
19.30 - 20.00 - Network & mingle
We will serve beers and soft drinks and light snacks.
Through this event, we aim to create a community of like-minded individuals and companies who are working towards a common goal, which is to improve sex education, promote sexual wellness, and create a safe and inclusive space for people of all genders, sexual orientations, and backgrounds.
This event is organized by SexTech Nordics and supported by DAYA and QueensLab.
SexTech Nordics provides a hub for the exchange of ideas, experiences, knowledge, and networking for sex-positive brands, founders, developers, content creators, artists, journalists, performers, talents, therapists, coaches, sexologists, educators, researchers, students, investors and local sex-positive communities and event organizers.
SexTech Nordics aims to break the stigma, shame and taboo surrounding sexuality. We bring a more inclusive and intersectional perspective into the sexual wellness industry and society with the goal to create a world where real conversations and education are the norm.
Let's come together to support each other and collaborate in the creation of innovative products and services that enhance human sexuality and promote inclusive sexual wellness.
For more info follow us on:
Instagram: @SexTechNordics https://www.instagram.com/sextechnordics/
LinkedIn: SexTech Nordics https://www.linkedin.com/company/sextech-nordics/
Email: cometogether@sextech.dk
DAYA is a full-tech house on a mission to accelerate global femtech innovation by leveraging the ecosystem and pushing boundaries.
QueensLab is a tech and design consultancy dedicated to exploring the unknown in the digital world.
-----------------------------------------------------------------------------------------------------------
* Sex positivity seeks to promote a culture of acceptance and understanding around sexuality and aims to remove shame and judgment from the conversation around sex.