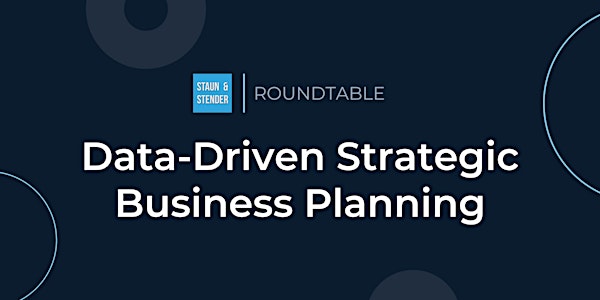 Roundtable: Data-Driven Strategic Business Planning
Exclusive Roundtable and Networking Event | Request your invitation
When and where
Location
Oslo - TBA Oslo 0164 Oslo Norway
About this event
ABOUT:
This is a physical roundtable for senior IT leaders, CIOs, digital transformation leaders, enterprise & business architects as well as portfolio managers in medium and large organizations. The event takes place in Oslo, Norway, and is held in English. There are only 25 FREE seats available!
The event includes a facilitated roundtable discussion, free lunch, and an optional networking session with drinks afterward. The treats are on us! No preparation is needed. Come share your experience with fellow IT leaders, enterprise and business architects, find answers to your challenges, network with the others, and get inspired.
Don't hesitate to contact info@staunstender.com in case of any questions.
We are highly looking forward to seeing you at the roundtable on Thursday, the 2nd of February 2023, in Oslo. We reserve the right to tailor the attendees' list to make it a great day for all!
AGENDA:
10:00 - 10:30 Arrival & Registration
10:30 - 11:00 Introduction
11:00 - 12:30 Part I. Challenges & Opportunities with Enterprise Architecture:
Challenges & trends - why do tools fail sometimes?
Success with EA, BA, PMO
12:30 - 13:30 Lunch
13:30 - 15:00 Part II. Business Architecture as an enabler for strategic business planning:
Business Capabilities or Value Streams?
Long-term planning
15:00 - 16:00 Part III. EA Impact on Strategic Portfolio Planning
Architecture as part of portfolio planning
Data-driven EA - what is the best practice?
How to gain value from EA in portfolio planning – customer case
16:00 - 17:00 Wrap-up & Networking

Event host Morten Stender is one of the founding partners at Staun&Stender - a leading advisory and solution provider to business change and transformation. Morten brings professional background of strategy management and successful strategy implementation across the large cap segment. He has researched and practiced consulting in strategy, planning and IT Management since 90's. Morten holds a PhD, M.Sc. and B.Com from the Technical University of Denmark and Copenhagen Business School. He is an IEEE reviewer and appointed examiner at Danish Universities.

Guest speaker Whynde Kuehn is a recognized global thought leader and a long-time pioneer, practitioner and educator in digital transformation, strategy execution and business architecture. She created S2E Transformation to help clients bridge the gap between strategy and execution, and achieve their greatest visions for business and digital transformation in a practical, business-focused way. She has worked with an extensive array of organizations to build their capacity for end-to-end strategy execution, including Fortune 500 and global enterprises, governmental and non-profit organizations, social enterprises, start-ups, and cross-sector initiatives. She is author of the brand new book "Strategy to Reality: Making the Impossible Possible for Business Architects, Change Makers and Strategy Execution Leaders".