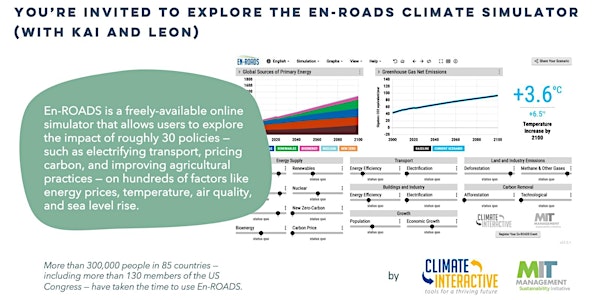 Role playing in a climate change solutions simulator 2.0: island edition
Join us in taking on a role crucial for realizing the societal transitions necessary of our collective simulated humankind on an island
About this event
👋 Hello fellow environmental sustainability worrywart
Your hosts Kai and Leon have been going through rigorous training using a climate change solutions simulator. Having practiced hosting successful virtual role plays already, we now want to give back to you 🫵, our communities and second degree friends.
Using the simulator, we want to facilitate a simple game where you get to take on a role in society, crucial for realizing the societal transitions necessary. No man is an island. Yet this edition of the role playing will take place on a specific island with a population perfectly representing one 10-million'th of the global population.
The proposed time span should be sufficient to save our collective simulated humankind 🌏 Please let us know if you want to participate, but are not able to make it at the proposed time, so that we might consider either moving the workshop or host an additional one.
For the curious souls: the simulator is called En-ROADS (Energy-Rapid Overview and Decision-Support, that is). You can read more about it and check out the dashboard here: https://www.climateinteractive.org/en-roads/. Though no particular preparations are needed to participate in the session - just your usual curiousity and desire to contribute to a more sustainable future 💚