Join the Reboot Retail online event and start building your action plan now!
About this event
To help retail professionals prepare for the new tomorrow, we present the Experience Economy Challenge: Reboot Retail 2020 online event. It is a 2-hour online, interactive session during which Experience Economy experts Joe Pine and Albert Boswijk will introduce and discuss strategies and tactics for retailers to advance their businesses forward immediately once their doors are reopened to their customers.
Attendees will be presented with, and have the possibility to discuss, opportunities for innovative and forward-thinking retail brands that want to engage with and retain customers in the immediate future that awaits.
Reboot Retail 2020 will prove to be a great event for retailers -- and I would expand that term to any enterprise with physical places that customers go to! -- where I will share what companies need to do now to prepare for the end of the crisis. - Joe Pine
Get Ready to Reboot the Retail Experience!
Contrary to what some may think at the moment, the world has not stopped turning. Now more than ever is the time to adapt and take action in an extraordinary situation that undoubtedly presents serious challenges. However, it also offers opportunities for rethinking and reinventing the retail experience in time for the new normal that awaits.
A session dedicated to the here and now of the retail industry
As this session is dedicated to help each attendee being able to build their own plan with action items ready to be launched, the presentations will reflect the current situation, as will the panel discussion and a Q&A. As part of the preparation of the event, we will take questions from registered attendees into consideration when planning the content of Reboot Retail 2020.
Don't miss this opportunity to interact with Joe Pine and Albert Boswijk and set your retail experience strategy to be ready to take action the moment it's needed.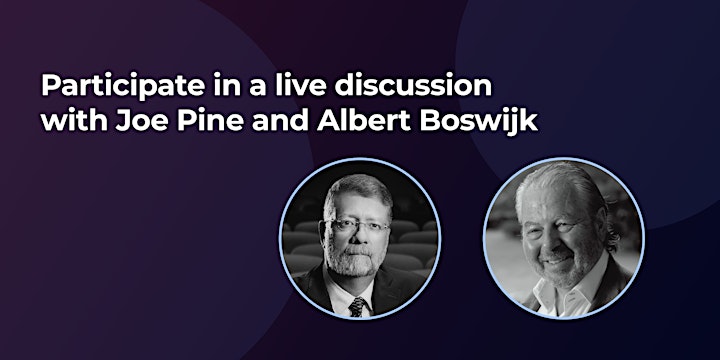 The event is in the format of an online webinar. We begin at 4 PM CET (10 AM EST) with an introduction from Klaus Sommer Paulsen and continue with presentations given by Joe Pine and Albert Boswijk.
Joe Pine will explore the topic of: "Competing for Customer Time, Attention, and Money"
We conclude the session with a panel discussion and Q&A at 5 PM CET (11 AM EST), so don't miss the opportunity to ask your questions to Joe Pine and Albert Boswijk and set your strategy.
! After you purchase your ticket, you will receive a direct personal invitation to your email address. You will use this invitation to join the online event. Make sure that the information you provide is correct.
! As an attendee of Reboot Retail 2020, you get a discount of €250 when you purchase a full-day ticket to the Experience Industry Challenge 2021: Retail 3.0+.

EIC2020: Reboot Retail is hosted by AdventureLAB and will be moderated by Klaus Sommer Paulsen – Founder of AdventureLAB and Themed Entertainment Association International Board Member. Read more about AdventureLAB on our website: adventurelabstudio.com

EIC2020: Reboot Retail is an online event in connection to the Experience Industry Challenge 2021: Retail 3.0+ the collaborative event that is now scheduled to take place in Copenhagen on April 23rd, 2021. The focus of the program is the future of retail with the integration of the Experience Economy. More details about the full-day event can be found here: eic2020retail.com
Organizer of Reboot Retail 2020: The Experience Industry Challenge
AdventureLAB is an award-winning integrated storytelling and experience design studio working with core concept, story and design development for themed entertainment and brand experiences around the world. As part of our design and development programs, we provide world-class facilitation of creative development. Furthermore, we share our expertise and knowledge by providing high-level professional training to leading brands in the experience, marketing, tourism and attractions industry to help them achieve success with 21st-century media technology and new audience types and roles.