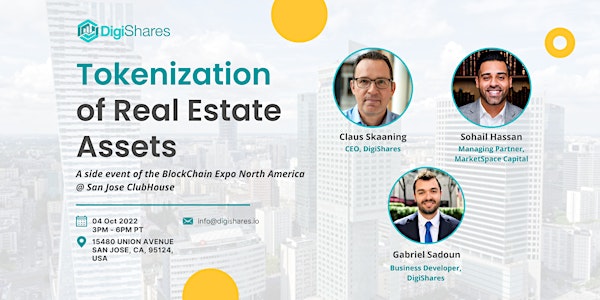 Real Estate Tokenization Masterclass San Jose
Masterclass by DigiShares - Tokenization of Real Estate Assets, Learnings and best Practices
When and where
Location
SAN JOSE CLUBHOUSE 15480 Union Avenue San Jose, CA 95124
About this event
Real estate tokenization is the concept of representing real estate assets with tokens on the blockchain, in order to much more easily fund-raise, manage, and trade the assets.
Benefits of tokenization
Efficiency – time & cost (x10 reduction):
- Digitization and automation of processes
- Automated compliance and governance
- Removal of human errors
At this masterclass event, the CEO of DigiShares Claus Skaaning (Ph.D) will give a basic understanding of blockchain and tokenization and how this can bring value to real estate companies. In addition, he will give an industry overview and highlight the current state of art. The head of business development in the US, Mr. Gabriel Sadoun, will show use cases of existing US customers.
DigiShares is a sponsor of the Blockchain Expo North America, a technological conference with 5,000+ attendees that will take place on 5-6 Oct 2022 in Santa Clara, CA, USA.
Tokenization is in its essence about digitization, automation, fractionalization, and liquidity. Due to the digitization of assets, we can automate transactions to an unprecedented level and this in turn leads to a massive cost reduction that enables fractionalization. Finally, tokenization enables peer-to-peer trading of assets with no counterparty risk, effectively increasing the value of assets with 10-30% through removal of the illiquidity risk.
Learn more about tokenization at www.digishares.io
Speakers:
Laura Pamatian, Founder, HeightZero Real Estate
✨Laura has 20 years of experience in the domestic and international marketing and sales of luxury resort and vertical real estate development. Specializing in investment product, she has represented numerous 5-star, globally recognized brands, including; The Ritz Carlton, Mandarin Oriental, Auberge Resorts and Grand Hyatt.
Sohail Hassan, Managing Director, MarketSpace Capital
✨He is an accomplished professional and founder/managing partner at MarketSpace Capital, a private equity multi-family real estate investment and development firm located in Houston, Texas with approximately $550MM of assets under management and another $1.4B currently under development.
From DigiShares Team:
Claus Skaaning - Founder and CEO of DigiShares, Ph. D., an expert in real assets tokenization
Gabriel Sadoun - Head of Business Development of DigiShares in the US, an expert in real assets tokenisation