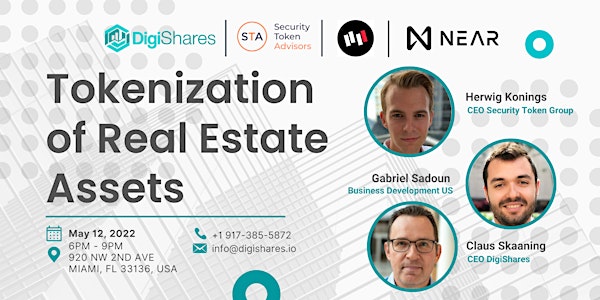 Real Estate Tokenization Masterclass Miami
Masterclass by DigiShares - Tokenization of Real Estate Assets, Learnings and Best Practices
Date and time
Thu, May 12, 2022 6:00 PM - 9:00 PM EDT
Location
Red Rooster Overtown 920 Northwest 2nd Avenue Miami, FL 33136
Refund Policy
Contact the organiser to request a refund.
About this event
Real Estate Tokenization is the concept of representing real estate assets with tokens on the blockchain, in order to much more easily fund-raise, manage, and trade the assets.
Benefits of tokenization
Efficiency – time & cost (x10 reduction):
- Digitization and automation of processes.
- Automated compliance and governance.
- Removal of human errors.
At this masterclass event, Claus Skaaning(Ph.D) will explain how tokenization is applied in the $3.7 trillion real estate market , Mr. Gabriel Sadoun will show use cases of existing customers from the US, and Mr. Herwig Konning will tell about exciting investing opportunities tokenization provides.
After the Masterclass you will learn:
✅ How to increase the Liquidity of Real Estate Assets.
✅ How to modernize, digitize, and automate your business with Blockchain.
✅ Best practices from local clients who will share their experiences.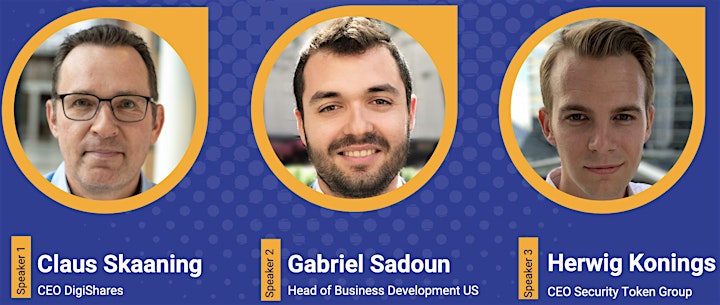 Speakers:
Claus Skaaning - Founder and CEO of DigiShares, Ph. D., an expert in real assets tokenization.
Gabriel Sadoun - Head of Business Development of DigiShares in the USA, an expert in real assets tokenisation.
Herwig Konings - Founding Partner & CEO of Security Token Advisors
Andrew Quarrie - CEO and Founder of URBLANDIA - a needs analysis platform for real estate development.
AGENDA:
6:00 - 6:20 PM: Cocktail Hour
6:20 - 6:30 PM: Welcome and Introduction by Andrew Quarrie
6:30 - 7:00 PM: Claus Skaaning, CEO at DigiShares
7:00 - 7:15 PM: Case Study: DigiShares in the US | Gabriel Sadoun
7:15 - 7:30 PM: Herwig Konings, STA Representative
7:30 - 8:00 PM: Additional Speakers
8:00 - 8:30 PM: Panel Discussion by Andrew Quarrie
8:30 - 9:00 PM: Q&A and Networking Session.
About the organiser
This event is organized by DigiShares. DigiShares is a leading Danish company specializing in the tokenization of securities.
Visit us at www.DigiShares.io.