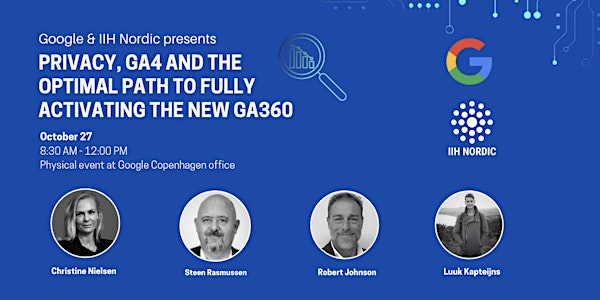 Privacy, GA4 and the optimal path to fully activating the New GA360
Securing both enterprise compliance and return on analytics from a 360/GA4 migration and setup
When and where
Location
Sankt Petri Passage 5 5 Sankt Petri Passage 1165 København Denmark
About this event
Securing both enterprise compliance and return on analytics from a 360/GA4 migration and setup
About this event
With the latest update from the Danish DPA and the sunsetting of the current version of Google Analytics 360 set for October 2023, it is becoming critical to not only start a migration, but also secure compliance in the process and start actively using the platform on a daily basis.
With Google Analytics 4, Google has built an engine not only for building reports and dashboards, but for data activation far beyond the traditional analytics platforms - and with the New GA360 we take this value even further.
Join the physical event at Google Copenhagen office.
But isn't Google Analytics illegal?
No. It's possible to set up Google Analytics, so it is not compliant, but if you know what you are doing GA4 is neither more nor less compliant than most of the other tools in the market.
And of all the Enterprise platforms in the market, there is no one who currently invests more resources in matching the demands from the authorities pushing compliance even further.
So join IIH Nordic for a special session dedicated to clarifying any issues around privacy and the New GA360 and helping to define a clear path forward to ensure full value from the new platform through daily utilization.
As a dedicated Google Partner and Marketing Analytics for Cloud specialist, IIH Nordic has actively been working with GA4 since the beginning, and is one of the most experienced agencies when it comes to commercially driven multinational and enterprise GA360 migrations.
To put the future of analytics in perspective Matthias De Bruyne (NL) from Google opens the session with thoughts on what is going on right now regarding privacy and what the future of data, ads and tracking is at Google.
Steen Rasmussen (DK) and Robert Johnson (US) will be sharing their experiences, insights, and practices, not only on why a migration is good for business, but also some of the pitfalls and issues they have encountered in the process so far.
Furthermore, they will bring their perspective on the current situation in analytics and elaborate on why the best alternative to Google Analytics definitely still is Google Analytics.
It is not an IT or technical session.
The focus of the event is to secure a full understanding of the requirements and the potential value of GA4 and the New GA360.
As such, it is an important event for leaders, senior analysts and managers to understand the roll out and options, but does not deliver operational or technical insights to other parts of the organization.
What will you take home?
The answer to the risk and legality question
A clear understanding of the added value for enterprise organizations in the New GA360/GA4
The timeline for activating the platform before it is to late
Clear understanding of of the need to act now, based on the changing ads and tracking ecosystem
A framework for evaluating alternatives to Google Analytics from a commercial standpoint.
And a wonderfull day at the Google office in copenhagen!
Who should attend?
This is an event for those responsible for the strategic and operational use of data and analytics: Leader profiles such as CCO, CMO, CDO, combined with heads of analytics, heads of data activation, and website and marketing managers.
—------------------------------------------------------------------------------
Agenda
08.30 - 09.00 Doors open - arrival and coffee + light breakfast
09.00 - 09.10 Welcome and introduction
- (Christine Nielsen, Google)
09.10 - 09.45 Migration and setup - Securing return on GA4 for Enterprise
- (Robert Johnson, IIH Nordic)
09.45 - 10.00 A break
10.00 - 10.30 Not just analytics - The potential of GA4 in practise
- (Steen Rasmussen, IIH Nordic )
10.30 - 11.00 Google, privacy & the future/ What has and will change?
- (Luuk Kapteijns, Google)
11.00 - 11.30 Q&A - Ask us anything
- (IIH Speakers & Luuk from Google)
11.30 - 12.00 Lunch & networking
Questions?
Please direct any questions to Cecilie Ameland at Ameland@iihnordic.com. Thank you!
See you Thursday 27th of October at the Google office in Copenhagen!