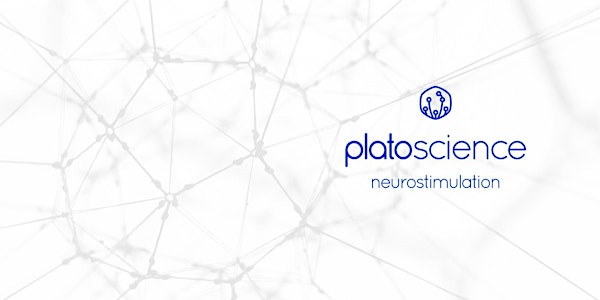 PlatoScience Seminar: Brain States and tDCS in Practice
Working with Brain States and tDCS in your Practice – A Conversation between Dr. Balder Onarheim and Dr. Alexander Sack
About this event
In this month's seminar we will be taking a deeper dive into the fascinating potential of brain state dependent brain stimulation. We are pleased to welcome once again Professor Alexander Sack who will be leading the conversation together with PlatoScience CEO and Founder, Dr. Balder Onarheim.
In this selected group of participants, all working in the private healthcare sector, we invite you to share your thoughts, experience and questions about the application of TES/tDCS in your clinical practice. With this open conversational format, we hope to lay the foundation for a community which allows everyone to learn from each other in this rapidly moving field.
Background for the theme:
There is an increasing knowledge in the field of brain stimulation, that brain state is a key determining factor in improving response rates and clinical outcomes. Since subthreshold stimulation techniques rely on modulating brain activity, ensuring appropriate patterns of activation is key.
About the speakers:
Professor Dr. Alexander Sack, Professor of Brain Stimulation and Applied Cognitive Neuroscience from Maastricht University. Prof. Dr. Sack is an internationally renowned expert in noninvasive brain stimulation, fundamental and applied cognitive neuroscience, and clinical brain research. Prof. Dr. Sack has become one of the world's foremost pioneers and influential leaders in brain stimulation research by combining and developing new tools to uncover the brain dynamics underlying human cognition and behavior. In 2015, he founded and is currently still director of the Dutch-Flemish Brain Stimulation Foundation, aiming to promote scientific research and collaboration in the field of noninvasive brain stimulation and its translation to clinical practice (e.g. for treating depression)
Dr. Balder Onarheim, is the Founder & CEO at PlatoScience and Lead Product Designer of the PlatoWork tDCS Headset. He's currently affiliated with RMIT, Swinburne University and Adelaide Medical School.
Dr. Onarheim's expertise lies within a neurologically based understanding of creativity, and methods to use this understanding to make people better problem solvers. With a background in medical product design and a PhD in 'Creativity under Constraints', he combines practical experience with a thorough theoretical foundation for improving creativity on an individual and organizational level. He is a popular speaker with talks at prestigious conferences and universities around the world.