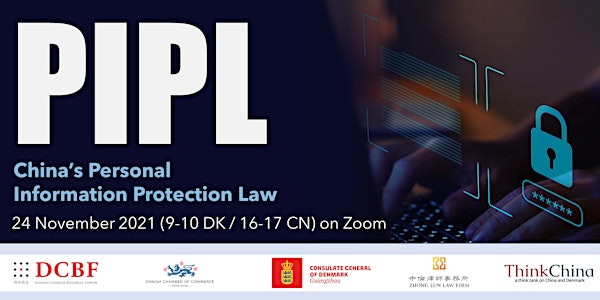 PIPL - China's Personal Information Protection Law
Join this webinar to get an overview of China's Personal Information Protection Law (PIPL) and what you need to consider.
About this event
In late August 2021, The Standing Committee of the National People's Congress passed the Personal Information Protection Law, which is among the strictest data laws in the world.
Companies, Chinese as well as foreign, are obligated to obtain prior consent to collect data, as well as to minimize collection of data.
At this webinar, Mr. Quentin Bottasso and Mr. Kent Woo from Zhong Lun Law Firm, Guangzhou, will introduce the law and cover what companies need to be aware of. Dr. Wen Xiang from ThinkChina/Faculty of Law at UCPH, will focus on the pharmaceutical industry by elaborating how the PIPL affects the use of genetic information. The webinar is hosted by Danish-Chinese Business Forum, Danish Chamber of Commerce Hong Kong and the Royal Danish Consulate General in Guangzhou.
This webinar is for both members and non-members of DCBF. We encourage those who are not yet members to consider becoming members to take full advantage of the many benefits we offer.
If you have any questions regarding the event, please do not hesitate to contact Rasmus Sehested Thormann, Communications & Project Manager, DCBF: rst@dcbf.dk.