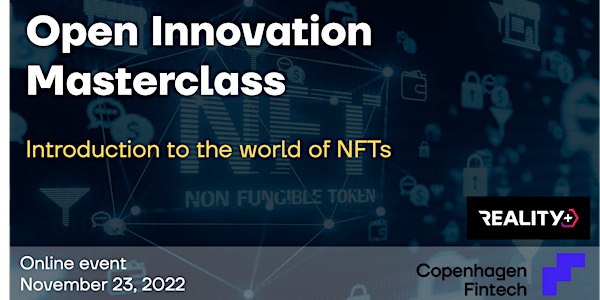 Open Innovation Masterclass
Open Innovation Masterclass - Introduction to the world of NFTs
About this event
The Open Innovation Masterclasses is your chance to get a better understanding of and learn from innovation processes across the fintech ecosystem.
During the Masterclass sessions, we will let companies share their stories, their successes and failures and their lessons learned from real innovation and partnership cases within fintech.
We will also invite industry experts and researchers from both the Nordics and beyond to provide insights on different topics.
__________________
November 23, 12.00 - 13.00
We have invited Morten Rongaard, CEO and Co-founder of Reality+ to give an introduction to Non-Fungible Tokens (NFTs), tells us about how his company works with NFTs for big corporates and organisations like BBC and Tour de France and his 2 cents on where to start when working in a big corporate.
PLEASE NOTE that the session is online!
__________________
Tickets
Use your partner code to sign up - you find the code in the latest partner newsletter or reach out to our Head of Partnerships & Corporate Innovation, Marie-Louise Roth at mlr@copenhagenfintech.dk