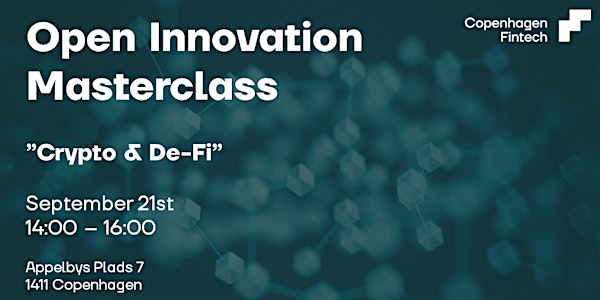 Open Innovation Masterclass - Crypto & De-Fi
Open Innovation Masterclass - Crypto & De-Fi
When and where
Location
Copenhagen FinTech Lab 7 Applebys Plads 1411 København Denmark
About this event
The Open Innovation Masterclasses is your chance to get a better understanding of and learn from innovation processes across the fintech ecosystem.
During the Masterclass sessions, we will let companies share their stories, their successes and failures and their lessons learned from real innovation and partnership cases within fintech.
We will also invite industry experts and researchers from both the Nordics and beyond to provide insights on different topics.
Masterclass 21. September 2022 "Crypto & De-Fi"
At this masterclass we will get insights from experts on Crypto & De-Fi and discuss the relevance of Crypto and De-Fi in the financial sector.
"It is difficult to understand and get an overview of what blockchain and cryptocurrency are and what it will mean for the financial sector. It is risky for Danish financial companies to ban cryptocurrency for both their employees and customers. If the Danish financial sector wants to remain relevant, it must engage with cryptocurrency and blockchain in a constructive way." Quote, Jan Damsgaard
We are proud to announce following guest speakers:
Jan is educated Cand. Scient in datalogi (computer science), Ph.d. and is a digital sage appointed by the Academy of Technical Sciences. Jan researches money, payments, central bank-issued digital currency (CBDC) and cryptocurrency as well as digital business models, platform economics and the Internet of Things. Jan is current with the bestseller book "Blockchain Business: Genuine, traceable and irreplaceable"
Lars has invested in a broad range of companies, including most notably the foundational blockchain protocol, Concordium. He was a very early adopter of the internet and is now focused on the transformative potential of blockchain in its various forms. After being a Bitcoin enthusiast and early supporter since 2012, he became increasingly concerned about the early generations of blockchain projects, plagued by anonymity, lack of compliance and simply bad tech. Based on long term experience of developments in the regulation of traditional financial markets, he has become convinced that a similar process will unfold in the blockchain space.
__________________
When:
September 21: 14.00 - 16.00
Where:
Copenhagen Fintech Lab
Appelbys Plads 7
1411 Copenhagen
__________________
Tickets:
Use your partner code to sign up - you find the code in the latest partner newsletter or reach out to our Head of Partnerships & Corporate Innovation, Marie-Louise Roth , mlr@copenhagenfintech.dk
Please note that this an in-person event - partners will have access to a recording of the event.