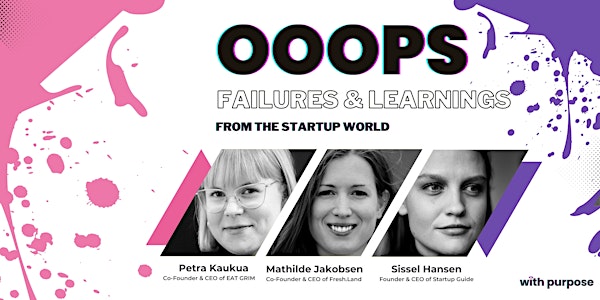 Ooops - Failures & Learnings from the Startup World
With Purpose invites you to their monthly event series, where stories about failure and learnings from the startup world are shared.
When and where
Location
The Archive House Hauser Plads 20 1127 København K Denmark
About this event
For our launch event, we have invited Petra Kaukua, Sissel Hansen & Mathilde Jakobsen to share professional failures from their entrepreneurial journey as well as learnings on how to overcome fear of failure.
Petra Kaukua is the CEO & co-founder at Eat Grim. Eat Grim is a platform for ugly and surplus fruits and vegetables. They source this outcast produce directly from farms and bring it to market through a food box subscription, making it easy for people to live sustainably. They also supply food businesses, making their sourcing more sustainable and transparent.
Sissel Hansen is the CEO & founder at Startup Guide. Startup Guide is a publishing and media company that produces guidebooks and online content to help entrepreneurs navigate and connect with different startup scenes across the world. As the world of work changes, its mission is to guide, empower and inspire people to start their own business anywhere.
Mathilde Jakobsen is a food activist, a disruptive thinker and the CEO & co-founder of the award winning Danish scale-up, Fresh.Land, which shortens the journey of our food from farm to table. By cutting out 3-5 middlemen, Fresh.Land eliminates artificial ripening, cold-storage and surface treatment. Fresh.Land was coined "truly pioneer in the new climate economy" by the World Wildlife Fund (WWF) and Forbes identified it as "one of the most promising green startups in the EU". Mathilde holds a BSc in International Business (2011) and a MSc in Management of Innovation and Business Development (2013) from Copenhagen Business School (CBS). To give back, Mathilde is a seasoned speaker on entrepreneurship and she delivered the Graduation Speech to 4000 graduate students at CBS last year.