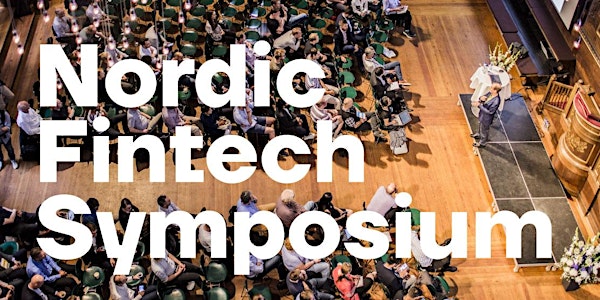 Nordic Fintech Symposium 2022
Nordic Fintech Symposium 2022
When and where
Location
Celebration Hall at University of Copenhagen Frue Plads 4 1168 København Denmark
About this event
Our Nordic Fintech Symposium will bring together the world's top fintech researchers, giving you access to groundbreaking research directly applicable to companies in the industry. Historically, inventions and innovation have always been rooted in deep research knowledge and the Nordic Fintech Symposium will make sure that fintech industry leaders and top researchers together can collaborate to make sure we build greater things, to provide as much societal value as possible in the shortest possible time. Anyone with an interest within the area of valuable business applications with strong research behind it is guaranteed benefit by joining us this day. Join us in a true paradise for researchers' created business applications in the astounding and historic Celebration Hall at University of Copenhagen.
08:00-08:45 - Check-in
08:45-09:05 - Welcome session with Thomas Krogh Jensen, CEO, Copenhagen Fintech
Theme: New digital business models
09:05-09:50 - New business models, sustainable finance and capital market conditions
The transition towards a green economy will require a radical rethinking of current business models, including in the financial sector.
This panel will be focusing on emerging new business models in the area of sustainable finance and what impact they will have on future capital market conditions.
Panel:
Lars Ohnemus, Director of Center for Corporate Governance, CBS
Marc Steffen Rapp, Prof. Business Administration, Marburg Centre for Institutional Economics
Thorbjørn Lundholm Dahl, Acting Head of Group Sustainability, Danske Bank
Thomas Ritter, Prof. Market Strategy and Business Development, CBS
09:50-10:05 - Break
Theme: Tech for the good society
10:05-11:00 - A case study on DLT to create a green financing path to Net-Zero
Panel debate with introductory presentations.
Speakers:
Simon Haldrup, CEO, Agreena
Fritz Henglein, Head of Research, Deon Digital
Lars Henningsen, Special Adviser, Danish FSA, Department of Financial Technology
Søren Andresen, Subject Matter Expert, BEC Financial Technologies
Christian Thygesen, Partner, Capital Market Partners A/S
Henrik Axelsen, PhD Fellow, Department of Computer Science, University of Copenhagen
Moderated by Thomas Krogh Jensen, CEO, Copenhagen Fintech
11:00-11:30 - Is fintech a new sector or just technology for an existing sector?
Speaker:
Romeo V. Turcan, Professor, Aalborg University Business School
11:30-12:00 - Challenges and opportunities enabled by new regulation; how can regulation enable business models?
Speaker:
Alexandra Andhov, Associate Professor of Law & Technology, University of Copenhagen
12:00-13:00 - Lunch break
Theme: Technological drivers for new financial solutions
Session A: New financial instruments
13:00-13:35 - Contract specification for finance
Smart Financial Instruments (SFI) is a new DLT-based platform for securely issuing financial instruments ranging from ordinary fixed-rate bonds to carbon credits and KPI-linked green bonds, trading and settling them in real time. SFI's secret sauce is CSL, its smart contract specification language, which expresses term sheet and contractual obligations separately from their execution. In this talk we present new results on multicurrency/multiresource support and the (peculiar) notions of (calendar) time used in financial contracts, to be included in future versions of CSL. Their message: Algebra is your friend.
Speaker:
Fritz Henglein, Head of Research, Deon Digital & Professor of Programming Languages & Systems, University of Copenhagen
13:35-14:10 - Descending from the Ivory Tower: My adventures in Fintech
War stories from twenty years of dabbling in fintech with cases such as optimal mortgage and pension choice, swap valuation, stable coins tied to currency baskets – and sports betting.
Speaker:
Rolf Poulsen, Professor of Mathematical Finance, University of Copenhagen
Session B: Quantum Finance
14:10-14:45 - Quantum Computing, opportunities and challenges for finance
Quantum computing promises to fundamentally change the way we compute. In that it will not provide the 'everything will be a little faster'-progress, but instead promises to provide an exponential speedup to some problems and not to others. We are currently trying to find out, which is which. You will be given a quick feel of what makes quantum special, give examples from finance (e.g. portfolio optimization), and touch upon the impact of quantum on our secure communication infrastructure.
Speaker:
Matthias Christiandl, Professor of Mathematical Sciences, University of Copenhagen
14:45-15:15 - Break
Session C: Decentralized Finance
15:15-15:50 - Smart contract verification for DeFi
Smart contracts provide the means to implement the logic of DeFi applications. Implementation, however, can exhibit unexpected behaviour leading to vulnerabilities. In 2021, cryptocurrency-related crimes, including smart contract attacks, resulted in losses of approximately $14 billion. This number is dominated by DeFi applications, suggesting that software quality plays a crucial role in the adoption and further development of DeFi technology. Formal verification uses mathematical tools to ensure that an application behaves according to its specification. We present an overview of ConCert - a smart contract verification framework developed at the Concordium Research Centre (Aarhus University). ConCert utilises proof assistant technology to specify, implement and generate executable implementations of smart contracts. We cover some typical examples of DeFi applications verified in ConCert and discuss integration with the Concordium blockchain infrastructure.
Speaker:
Danil Annenkov, Researcher at Concordium
15:50-16:25 - When is a DAO sufficiently decentralized
Decentralized Autonomous Organizations (DAO) have grown rapidly in recent years. Global regulators increasingly voice the intent to regulate DeFi activity. This may impose an excessive compliance burden on DAOs unless they are deemed sufficiently decentralized to be regulated. Yet, decentralization is an abstract concept with scarce legal precedence. We investigate dimensions of decentralization and propose a definition of "sufficient decentralization" and present a general framework for the assessment of decentralization.
Speakers:
Henrik Axelsen, PhD fellow, University of Copenhagen & Omri Ross, Associate Professor, Programming Languages & Theory of Computing, University of Copenhagen & Chief Blockchain Officer, eToro
16:25-17:00 - Money in future payments
The change in new and old currencies: CBDC – Central Bank Digital Currencies, cryptocurrencies, fiat money, e-Money, and other assets.
Speaker:
Jonas Hedman, Professor in Digitalization, Copenhagen Business School