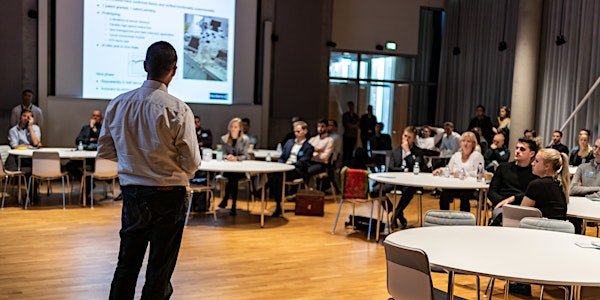 NOME Annual Meeting for NOME Mentors & Companies at Industriens Hus
Location
Industriens Hus
18 H. C. Andersens Boulevard
1553 København
Denmark
A unique opportunity to network with the leaders of the life science industry at the NOME Annual Meeting and Startup Competition 2021!
About this event
On behalf of the Nordic Mentor Network for Entrepreneurship (NOME), we would like to invite you to the NOME Annual Meeting and Startup Competition on November 23, 11:45-19:30 - in real life at Industriens Hus in Copenhagen.
Join us to celebrate the Nordic life science ecosystem: network with your fellow NOME mentors and companies, and experience some much-needed entertainment in the form of a keynote speaker, panel discussion, and performance.
A central part of the NOME Annual Meeting is our Startup Competition, where you will have the chance to meet and learn more about high-quality, Nordic-based life science start-ups as they pitch their businesses and projects.
Program for the day:
From 11:45 to 14:30: NOME Mentors and Companies only
Fireside chat: "how to get the most out of NOME"
Facilitated networking 
14.30 - Registration and check in for Open Event
15:00 - General program begins: Welcome to the NOME Annual Meeting and Startup Competition
15:15 - Startup Competition: 5 pitches with Q&A
16:15 - Coffee break
16:30 – The NOME Prize
16:40 - NOME Alumni Talk: Anette Säfholm from Gedea
17:00 - Keynote talk by Dr. John Halamka, M.D., M.S., President of the Mayo Clinic Platform, "The Digital Reconstruction of Healthcare"
17:40 - The NOME Mentor Award
17:50 – Mindblowing (literally) show by Jan Hellesøe
18:25 – Closing remarks and networking with drinks and light serving
19:30 – End of event
The program is preliminary and might be adjusted.
Please register to participate in the event, and do so before November 9. The event is free of charge, but only registered guests will be able to participate.
We look forward to seeing you (finally in real life!) for an exciting day with professional insights!
Best wishes,
The NOME team