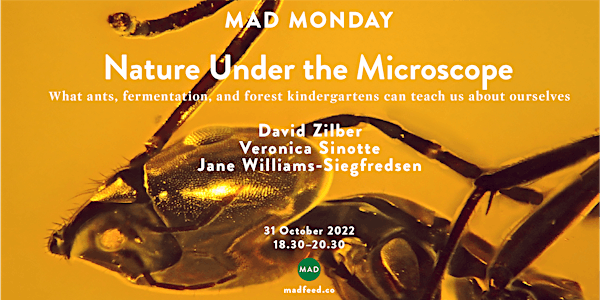 Nature Under the Microscope
Cultivate a sense of awe around nature to yield transformative insights about the human experience.
When and where
Location
Krudtløbsvej 12 12 Krudtløbsvej 1439 København Denmark
Refund Policy
Contact the organiser to request a refund.
About this event
For the second installment in our MAD Monday Fall 2022 series, we invite you to take a closer look at nature under the microscope. Insights from a scientist, a chef, and a teacher entice us to explore the hidden phenomena that lie beneath our everyday consciousness. How does an early childhood immersion in the outdoors help us better assess risk and manage challenges? How can ants and their microbial partners transform our foods in the present and provide the potential to expand what we eat in the future? Drawing on lessons from the natural world, this program will tap into a deep sense of curiosity and wonder that connects us back to our own humanity.
The ticket price of DKK 180 includes a drink and a snack after the talk.
Our Speakers
David Zilber is a professional chef, fermenter, photographer, and author who has worked in some of the world's top kitchens, served as director of the Fermentation Lab at restaurant noma, and authored the New York Times bestseller The Noma Guide to Fermentation. He currently works at Chr. Hansen as a food scientist on the frontiers of flavor and innovation, employing the help of microbes to build a more just and sustainable food system for all.
Veronica Sinotte, PhD is a biologist specializing in the dynamic interactions between social insects and microorganisms. She is currently working to understand insect societies and microbial consortia through an interdisciplinary lens, with the aim to elucidate how their ecology and evolution intersects with food and culture.
Jane Williams-Siegfredsen is a teacher and author whose work focuses on the Danish Forest School approach. Her research focuses on the unique and significant learning opportunities nature provides to young children.
** Main photo by Vincent Perrichot / URL: https://www.antweb.org/bigPicture.do?name=mbi2289&shot=h&number=1. Image Copyright © AntWeb 2002 - 2022. Licensing: Creative Commons Attribution License.