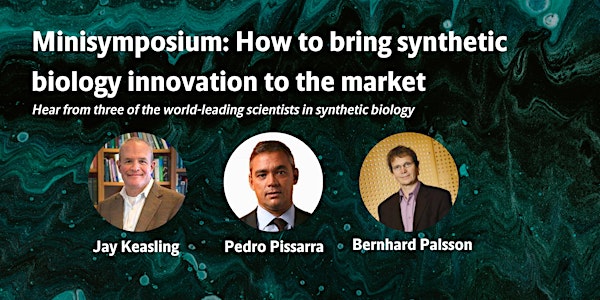 Minisymposium: How to bring synthetic biology innovation to the market
Hear from three of the world-leading scientists in synthetic biology
When and where
Location
BioInnovation Institute Ole Maaløes Vej 3, 3. floor 2200 København Denmark
About this event
How to bring synthetic biology innovation to the market
On Friday afternoon 18 November, we are thrilled to host three of the absolute frontrunners within synthetic biology innovation to a chat about how they transformed complex science into products and companies that can help solve some of the major challenges that society faces. At the same time, they will try to answer the big question; where is synthetic biology heading and what is needed for synthetic biology to fully exploit its potential?
Program of the day
15:00 Doors open
15:30 Bernhard Palsson; 'Some useful lessons from serial academic entrepreneurship'
15:50 Jay Keasling; 'Development of a yeast platform for production of monoterpene indole alkaloids'
16:10 Pedro N Pissarra; 'From Biopharma to Nutripharma – The building of a new Business Field'
16:30 Plenum discussion facilitated by Jens Nielsen
17:00 Reception & networking
Bernhard Palsson is the Galetti Professor of Bioengineering and the Principal Investigator of the Systems Biology Research Group in the Department of Bioengineering at the University of California, San Diego. Furthermore, he is the CEO of the Novo Nordisk Foundation Center for Biosustainability at the Technical University of Denmark (DTU). Throughout his outstanding scientific career, Palsson has been involved in spinning out several companies, filed more than 40 US patents, and authored several textbooks in systems and synthetic biology to help educate the next generation of scientists in the field.
Jay Keasling is Professor at the University of California, Berkeley, and a Visiting Professor at the Technical University of Denmark. He is an expert in engineering microorganisms to produce chemicals such as pharmaceuticals, specialty and commodity chemicals, and biofuels. He is the inventor of over 50 issued US patents, and the co-founder of eight biotechnology companies. One among many notable achievements is Keasling's work on harnessing the power of microorganisms to produce the semi-synthetic artemisinin which is a critical component in anti-malaria drugs to combat malaria.
Pedro Pissarra is the CEO of Chrysea, a synthetic biology company that develops precision healthy-lifespan nutritional interventions supported by rigorous clinical research, aimed at maintaining naturally occurring anti-aging mechanisms. Pedro is a highly networked seasoned life sciences entrepreneur and business executive and has obtained both his BsC and PhD in Biotechnology from Kings College of London. During his career, he has carried out research at several institutions, including the Massachusetts Institute of Technology (M.I.T), the Technical University of Denmark and the Department of Bioengineering at Tecnico, Lisbon. Following his Doctoral degree, he specialized in medical sciences and oncology but later transitioned into being a highly skilled executive in the synthetic biology space.