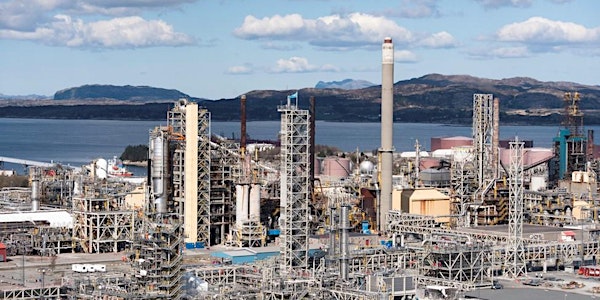 Making CCU and CCS happen!
Nordic Energy Research hosts a workshop focusing on Carbon Capture Utilization and Storage in Bergen, Norway.
When and where
Location
Grand Bergen 1 Nedre Ole Bulls plass 5012 Sentrum Norway
About this event
Earlier this year, the report "Hydrogen, electrofuels, CCU and CCS in a Nordic context" was published. The report contains recommendations which are subsequently discussed at a number of workshops. In March 2022, a launch event took place in Stockholm, in September a workshop focusing on public acceptance and industrial symbiosis was held in Fredericia, Denmark, and in December the third workshop focusing on Carbon Capture and Storage as well as Carbon Capture and Utilization takes place in Bergen, Norway.
The workshop is an opportunity to explore what is needed to enhance Nordic collaboration on CCUS and to address technical, financial, legal as well as societal barriers.
The workshop will also include on-site visits to Technology Center Mongstad – one of the most versatile test centers for carbon capture as well as Northern Lights, the world's first open-source CO2 transport and storage infrastructure.
Please note that the on-site visits have limited capacity – 45 persons only – so we recommend early registration.
Program Monday December 12
Venue: Grand Bergen, (Nedre Ole Bulls Plass 1 5012 Bergen)
12:00: Welcome and lunch
12:50 Opening speech - Strengthening Nordic collaboration on CCUS, by Klaus Skytte Nordic Energy Research
13:00: Nordic recommendations on Hydrogen, CCS, CCUS and E-fuels, by Lise Nielson, Senior Adviser, Nordic Energy Research
13:20: Public Perceptions of Carbon Capture and Storage, by Gisle Andersen, Senior Researcher, The Norwegian Research Centre NORCE
13:40: CCS and CCUS activities in Denmark, by Lise-Lotte Pade, Special Adviser, Danish Energy Agency
14:00: Legal framework for CCS and CCU - Regulatory barriers and opportunities, by Ingvild Ombudstvedt, IOM Law
14:20 - 15:00 - Coffee break
15:00 –16:15 Breakout session
Introduction: Nordic opportunities to reach scale and speed, by Preben Birr-Pedersen, Birr Consult, and IDA CCUS expert
Breakout session I: CCUS
Business and technical opportunities - what would be reasonable? Facilitator: Preben Birr-Pedersen,
Breakout session II: CO2 capture and storage
Standardization, regulation, challenges, and possibilities. Facilitator: Ingvild Ombudstvedt, IOM Law
16:15 -16:45 Plenary
18:00: Dinner (Payment for dinner covered by participants) Cost of dinner is 500 NOK
Accommodation
Pre-booking (25 persons) at Hotel Norge 1940 NOK pr. night.
Booking reference: Nordic Energy Research
Contact: hotelnorge@scandichotels.com +47 55 55 40 00
Deadline for booking: 5 December 2022
Program Tuesday December 13 - On-site visits to Mongstad and Northern Lights
8:30: Departure from Grand Bergen
10:00 –10:45: Presentation of Northern Lights
10:45 –11:30: Coffee Break
11:30 –12:00: Bus tour of Northern Lights' Facility
12:00 –13:00: Lunch and light refreshments
13:00 –13:45: The Nordic Networking Group on CCUS (NGCCUS), by Ane Gjengedal, Ministry of Petroleum and Energy, Norway, Chairwoman of NGCCUS
13:45: Walk to boat
14:00: Boat from Northern Lights to Technology Center Mongstad
14:55: Arrival at Kilstraumen Brygge AS (boat)
15:00-15:45: Bus to test center Mongstad and site visit (bus-tour)
15:45: Orientation by Test Center Mongstad
16:15: Departure to Flesland and Bergen city (Sandwich on bus)
18:00: Arrival Flesland Airport - depending on rush hour traffic
19:00: Arrival Bergen (downtown) - depending on rush hour traffic