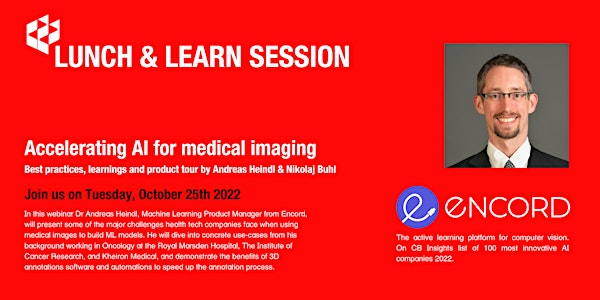 Lunch & Learn: Accelerating AI for medical imaging
Hear about the key challenges in dealing with medical images for AI startups, and how to solve them.
About this event
This event will be hybrid - join us online or at HTHC: Hauser Plads 20 1.sal, 1127 Copenhagen.
In this lunchtime webinar Andreas Heindl, Machine Learning Product Manager from Encord, will present some of the major challenges health tech companies face when using medical images to build ML models. He will dive into concrete use-cases from his background working in Oncology at the Royal Marsden Hospital, The Institute of Cancer Research, and Kheiron Medical. He will cover:
Key challenges in dealing with medical images for health tech startups
Case-specific benefits of 3D annotations software
Automations to speed-up annotation process
Complex labeling protocols using an ontology
About Encord
Machine learning and clinical operations teams of all sizes use Encord's collaborative applications, automation features and APIs to train & validate models and to annotate, manage & evaluate medical training data. Encord was recognized by CBInsights as one of the Top 100 most innovative AI companies in 2022.
About Andreas
Dr Andreas Heindl is a Machine Learning Product Manager at Encord based in London. He has spent the past 10 years applying computer vision and deep learning techniques in Healthcare at Encord, The Institute of Cancer Research, and Kheiron Medical. The main focus of Andreas' research and work until now has been to aid radiologists accurately diagnosing cancer by using artificial intelligence and computer vision.
The event will be in English.