Get the full Latin experience right from our rooftop! Mexican food and live Cumbia music come to Zoku Copenhagen.
About this event
Living Kitchen Takeover at Zoku Copenhagen
Pastor Tacos and Trypical Cumbia bring authentic Latin energy to our sunny terrace. 🌮
Family-owned restaurant Pastor Tacos is here to serve up heavenly tacos. And the best bit? You can even build your own! We also know that summer evenings aren't complete without live music, so we've invited Trypical Cumbia to serenade you with vibrant melodies while you dine.
GET EXCITED ABOUT
🍴 GOOD FOOD. Pastor is known for bringing traditional and versatile Mexican flavors to Copenhagen.
🍸 DELICIOUS COCKTAILS. We're serving up Margaritas and Palomas for 85 DKK & Coronas for 50 DKK. Now that's a steal!
🌇 FANTASTIC VIEWS. There's no better place to take in the skyline at sunset than on our rooftop.
🎸 GROOVY RHYTHMS. Trypical Cumbia knows how to get a crowd going. You won't wanna miss this.
🙏 ACTS OF KINDNESS. Small businesses need your support more than ever. Eat local and help keep Copenhagen's cultural scene alive!
MENU
Scroll down to see the full menu.
Based on your preference, you will either be served the dishes under "Standard Option" or "Vegetarian Option" altogether.
PRICE
200 DKK*
TICKETS
Dinner will be organized by 2-hour time slots, so pick what works best for you!
1st slot: 17:30 - 19:30
2nd slot: 20:00 - 22:00
NB If you wish to pay by credit card, please reserve through this link.
Spice up your summer on our rooftop. We're excited to serve you a dinner you won't forget! 🤙
*Drinks are not included in the price.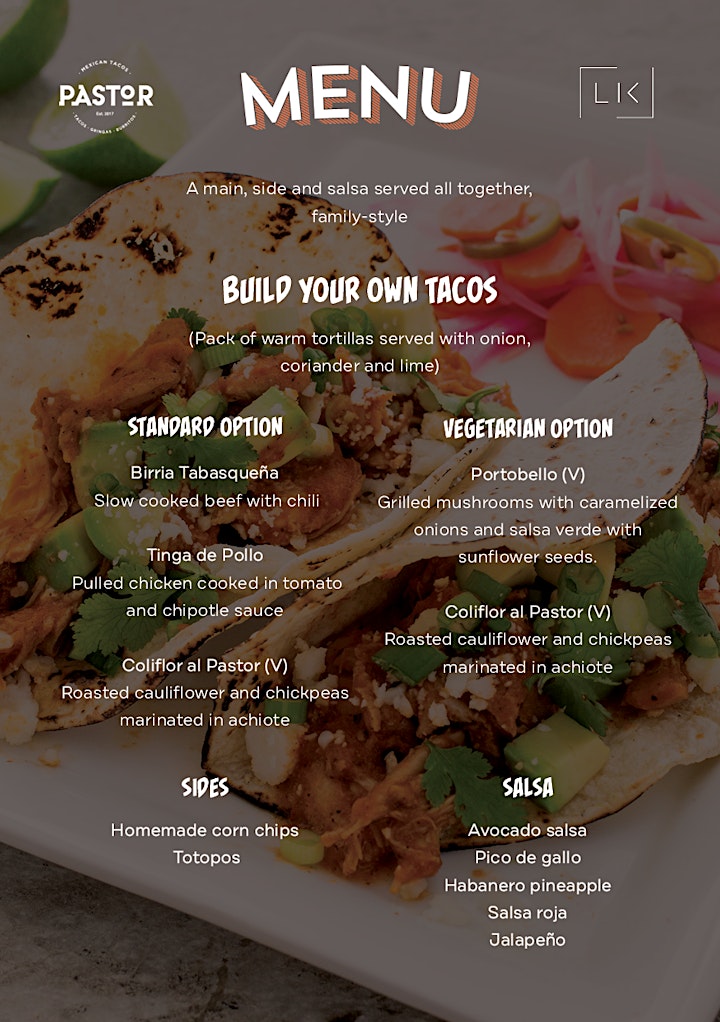 Organizer of Living Kitchen Takeover: Tacos & Tunes
Meet Zoku Copenhagen, a home/office hybrid where you can live, work, relax and socialize with like-minded people while getting wired into the city. Living and working internationally can be rather lonely at times and that's why Zoku has embraced 'loneliness' as a mission to create an impact within communities. Discover our spaces throughout Europe in Copenhagen, Amsterdam, and Vienna.