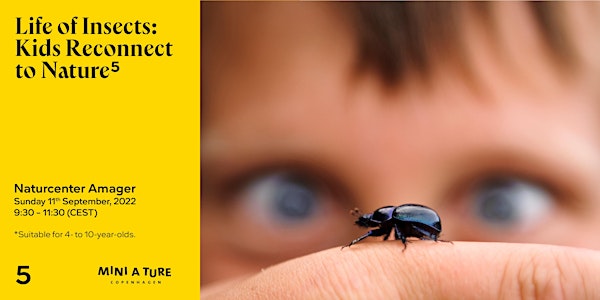 Life of Insects: Kids Reconnect to Nature
A Sunday family activity to reconnect with the joy of being outside and learn about the importance of insects and bees in a playful way.
When and where
Location
Naturcenter Amager 5 Granatvej 2770 Kastrup Denmark
About this event
We invite your family to reconnect to the pleasure and wonder of being outdoors.
In this fun-filled day with a passionate nature guide, children get the chance to explore the insect world and their natural surroundings. There's a special focus on butterflies and bees, as kids craft their own colorful creations and find out how these species survive in the wild.
The program for the day will flow with an introduction to local Danish insects, exploring what they eat and need to survive. After seeing some of these insects, the children can make their own bee or butterfly with a paper straw and find the flowers that go with each insect. Children will learn about how bees work together in a hive, and why we need to protect them.
Good news is, we will keep you nourished along the way at this free-of-cost event. Tasty snacks and drinks will be provided, but if you wish for something else, there is a cafe at the center.
This event is sponsored and created by 5 Media and Mini A Ture. We believe that caring for the environment starts with a connection to nature – and it's great to get kids involved early.