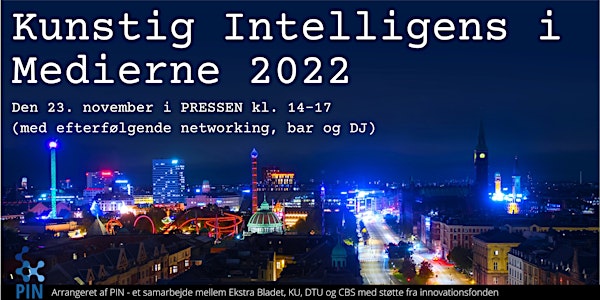 Kunstig Intelligens i Medierne 2022
Til Kunstig Intelligens i Medierne 2022 tager vi pulsen på udviklingen af AI i mediebrancen samt sætter potentialer og risici i perspektiv.
When and where
Location
PRESSEN Rådhuspladsen 37 1785 København Denmark
About this event
Mediebranchen befinder sig i starten af en ny digital epoke, hvor brugen af kunstig intelligens bliver mere og mere mainstream.
Fremvæksten af AI i medierne går stærkt. Udviklingen forbindes imidlertid både med store potentialer og betydelige risici. Derfor holder vi igen i år Kunstig Intelligens i Medierne, hvor vi tager pulsen på udviklingen og sætter den i perspektiv.
I første halvdel af eventet vil fem medievirksomheder, som er blandt de forreste i udviklingen, præsentere, hvordan de anvender kunstig intelligens i dag. Eksemplerne spænder bredt, og bringer os forbi flere forskellige grene af kunstig intelligens - heriblandt computer vision, recommender systemer, predictive modelling og natural language processing (NLP).
I eventets anden del præsenterer fire eksperter fra mediebranchen og AI-forskningen perspektiver på AI i medierne. Vi skal blandt andet se på udviklingen fra et teknologisk, erhvervsmæssigt og etisk perspektiv.
Programmet forløber i et stramt Ted Talks-lignende format, og hver del afsluttes med en paneldebat, hvor der tages mod spørgsmål fra publikum.
Det hele sker d. 23. november i PRESSEN på Rådhuspladsen i København fra kl. 14 – 17 med efterfølgende bar, DJ og networking.
Tilmelding er gratis, og der er igen i år plads til 250 deltagere. Billetter fås på denne side, indtil der ikke er flere.
Program:
Del 1: Anvendt AI i mediebranchen (kl. 14 – ca. 15.30)
- Podimo / Benjamin Biering (Head of Machine Learning): What should your next podcast be?
- Ekstra Bladet / Kasper Lindskow (Forsknings- og Innovationschef): Sådan bidrager recommendere og NLP til fremtidens nyhedsoplevelse på ekstrabladet.dk.
- Schibsted / Agnes Stenbom (Head of IN/LAB & Industrial PhD Candidate at KTH): Who benefits from AI in Media? Adressing the pains of news outsiders with AI.
- TV2 / Kristinna Jensen (Data Scientist) & Nicolaj Schmit (Machine Learning Engineer): Brug af machine learning til at fastholde højrisiko abonnenter.
- Acceleration, GroupM / Andreas Tandrup (Innovation Manager): Jagten på forbrugernes opmærksomhed med computer vision.
- Infomedia & MediaCatch / Stine Grandjean-Thomsen (Head of Media Monitoring) & Lars Damgaard (CEO i MediaCatch): Hvordan speech-to-text kan forandre medieforståelsen for altid.
Del 2: Perspektiver på AI i medierne (ca. kl. 15.45 - 17)
- AI Danmark / Peter Lemcke (Seniorprojektleder, Teknologisk Institut) & Roman Jurowetski (Lektor i Applied Data Science, AAU): Sådan udnytter vi potentialet i (ansvarlig) kunstig intelligens.
- Jes Frellsen (Forskningsleder på PIN og Lektor i Machine Learning, DTU): Anbefalingssystemer i nyhedsdomænet.
- Jannie Møller Hartlev (Lektor og ph.d. i Kommunikation og Journalistisk, RUC): Let's talk about sex: Om bobler, AI-drevne offentligheder og redaktionel balancegang.
- Peter Svarre (Digital Strateg og medlem af ekspertgruppen om techgiganter): 10 gode råd til at designe etisk kunstig intelligens i medierne.
Efter indlæggene vil der være bar, DJ og networking ca. fra kl. 17 - 18:30.
Hvis du har lyst til at se indlæg fra Kunstig Intelligens i Medierne 2021, så kan du finde dem her: https://www.youtube.com/channel/UCJZXQn3194oUcbaN3DHAtbw
---------
Kunstig Intelligens i Medierne arrangeres af Platform Intelligence in News (PIN) projektet. PIN udvikler ansvarlige og effektive AI systemer til nyhedsmedier, der er uafhængige af techgiganterne. Projektet modtager støtte fra Innovationsfonden og er et partnerskab mellem Ekstra Bladet i JP/Politikens Hus, DTU Compute på DTU, Computer Science på KU, Management Society and Communication på CBS og Institut for Kommunikation på KU.