Get into the (Kindred) Spirit at Zoku! Join us on our rooftop for a Friday night full of awesome drinks and surprises.
About this event
Kindred Spirits Open Bar Night at Zoku
An evening of live music, cocktails and giveaways 🥳
We're always up for a party. As a matter of fact... one of our motto's is "work hard, play strong", so what better way to celebrate than with Friday drinks after a productive work week? Whether it's your first or fiftieth time at Zoku, you're invited to join us for a truly unforgettable night. 🎉
What's in store?
We're glad you asked, because this time around we're going above and beyond. 'Tis the season of giving after all! So get ready to enjoy the following:
Free Cocktails 🍸
You heard that right! Our dear friends at Copenhagen Distillery are bringing their fresh take on Aquavit right to Zoku. They'll be providing two distinct cocktails: the Mulberry Daiquiri & the Negrosa. To make sure that everybody gets a taste of these delicious drinks, they're giving them to you for free*.
Wine Tasting 🍷
Feeling fancy? Kjær & Sommerfeldt will be there to provide an exclusive wine tasting.** Fun fact: They supply wine to the Royal Court. Believe us, you won't wanna miss out on trying this!
Beer Tasting 🍺
For those among us who enjoy the classic things, we've got a Danish staple - beer! Local favorite To Øl are coming over to share their delightful craft beers with you.** Is there any better way to get a feel for their variety than through a beer tasting?
Live Music 🎶
It's not a party without some good old music! We've got two setups for all different tastes - a live band and a DJ. Stay tuned to hear more about the performers!
Giveaways 🏆
There's even more than just one. All we can say is that the winners will win big. Get ready for a surprise - all the details will be revealed at the party!
The lowdown
📆: Friday, November 12th
⏰: 17:00 - 00:00
🎵: Kindred Spirits Open Bar Night
🎟: FREE!
📍: Zoku Copenhagen Rooftop
COVID-19 Regulations
As per the new restrictions, you can only join us in our Social Spaces as long as you present your corona pass. We stick to the rules, so no exceptions can be made to these entry requirements. Please arrive prepared and we can't wait to welcome you!
See you soon!
So what's stopping you? Don't be a stranger! Grab your friends, colleagues and lovers and head on up to Amagerfælledvej 108 for the perfect end to the week. ✨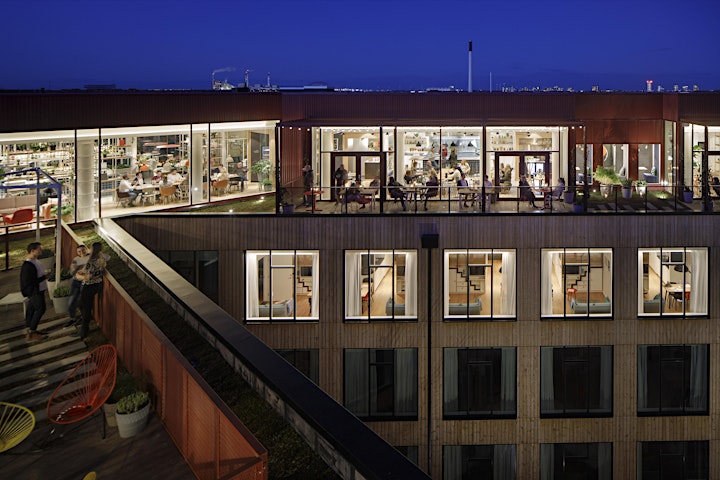 What the Zoku?
A place you can call a second home, even on your first visit. Zoku provides a home base for holiday and business travelers who want to live and work in a city anywhere from a few days to a few months. It's a home-office hybrid with hotel services, offering a relaxed place to live, work and socialize with like-minded people while getting wired into the city.
At Zoku, we also believe that amazing things can happen when people come together, which is why we regularly host events that align our international residents with internationally-minded locals. It's just a matter of going upstairs to join an industry talk, watch a movie, play some ping-pong or jam the night away. Our ultimate goal is to broaden your network, social circles and horizons.
Organizer of Kindred Spirits Open Bar Night
Meet Zoku Copenhagen, a home/office hybrid where you can live, work, relax and socialize with like-minded people while getting wired into the city. Living and working internationally can be rather lonely at times and that's why Zoku has embraced 'loneliness' as a mission to create an impact within communities. Discover our spaces throughout Europe in Copenhagen, Amsterdam, and Vienna.