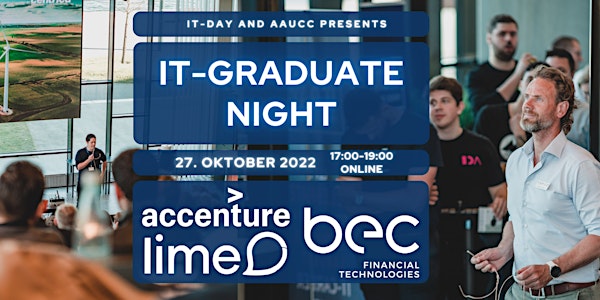 IT Graduate Night
Are you ready to meet some of the leading companies in Denmark and learn about their graduate programmes?
About this event
CLICK THIS LINK TO JOIN THE EVENT
Meet Accenture, BEC and Lime Technologies at the exclusive IT-Graduate Night 🌱
The awesome companies are joining us to share valuable information about their graduate programmes and the many opportunities that applying for these can bring. 🌐 Make sure you know exactly what a graduate programme is, which graduate programme to apply for and how you make the best application, through epic presentations, Q&A sessions and networking. Simply, go nuts. 🦾🎉
Graduate programmes are a unique opportunity to find yourself in a company - and what you truly love to do. 🔥
➡️ Through graduate programmes you can work in different departments, gain new knowledge, explore and develop your skills.
➡️ You'll try an abundance of things, until you find your passion - and then you'll get to nourish it.
☑️ This means, that with a graduate programme you don't have to find the perfect job - the perfect job will come to you.
The application process is usually several steps, which is why our event can provide you with answers to all your questions, and give you inside tips for the procedure! Get ahead of the game at IT-Graduate Night. 🎓
The night is as follows:
17:00-17:10: Introductions from IT-DAY & AAU Case Competition
17:10-17:30: Accenture
17:30-17:50: BEC
17:50-18:10: Lime Technologies
18:10-19:??: Networking in virtual spaces
This is your chance to learn more about some of the leading companies in Denmark, get inside knowledge about IT-Graduate programmes and network with your possible future employee 💡⚡🥪